3 Lakeland Reusable Vegan-Friendly Leaf Food Wraps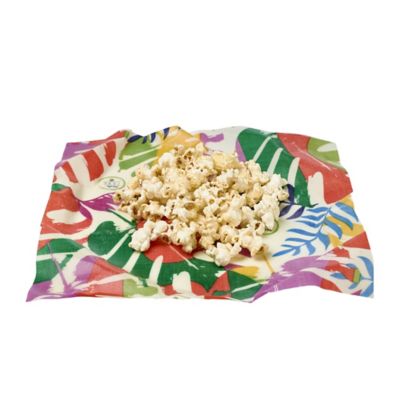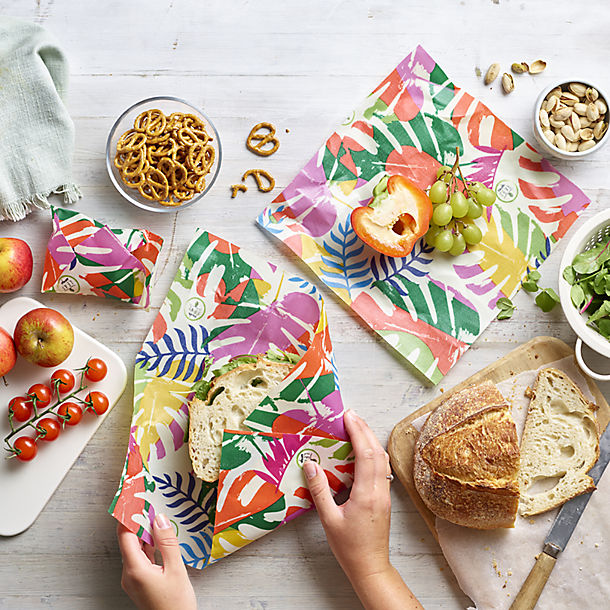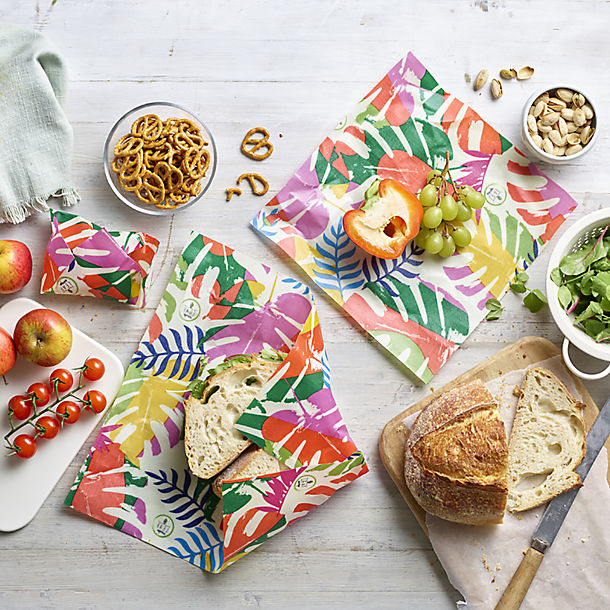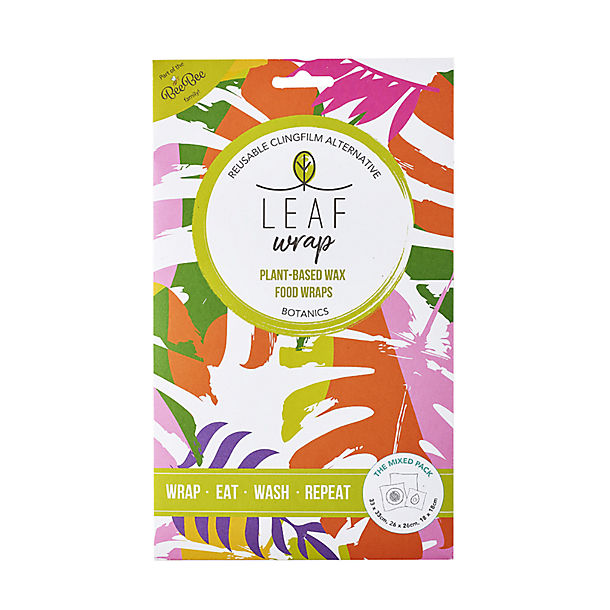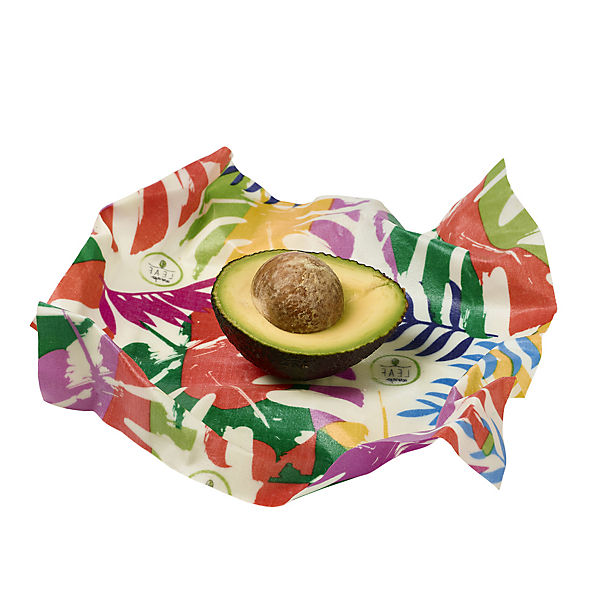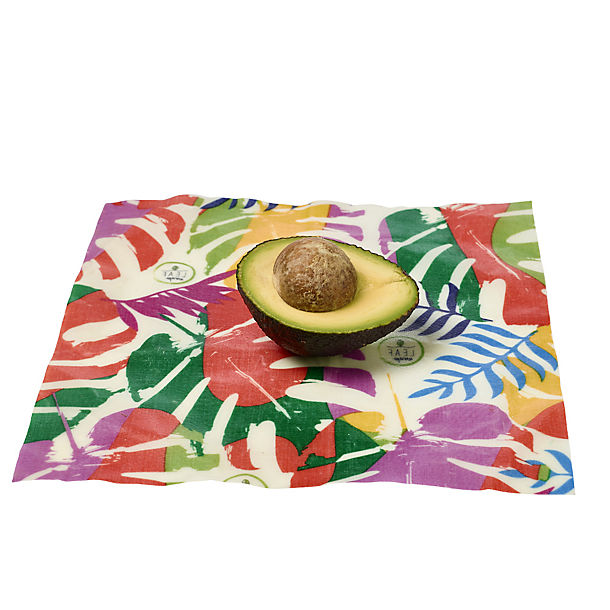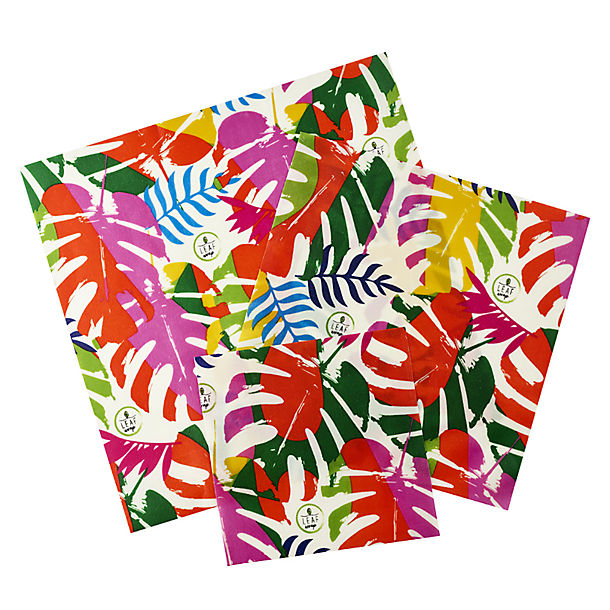 chevron_left
Previous
chevron_right
Next
zoom_in
Hover over image to zoom
swipe
Swipe for more media

This product has been discontinued.
error_outline Please note: this bundle will arrive in more than one delivery.
Product Features
3 UK-made reusable food wraps
Eco-friendly way to keep food fresh
Plant-based and vegan-friendly
Great alternative to single-use plastic
Feature pretty leaf print
18, 26 and 33cm Sq.
See more Spend smart ideas
Lakeland 3 year guarantee included
View full product description
3 Lakeland Reusable Vegan-Friendly Leaf Food Wraps
Product number: 26577
Looking for a greener, planet-friendly way to wrap up your sandwiches? Our pack of 3 Reusable Leaf Food Wraps make a lovely natural, reusable alternative to single-use plastic – simply wrap, eat, wash, then repeat! And unlike many other, similar wraps, these ones are made from organic cotton impregnated with plant-derived rosin and waxes rather than beeswax, so they're vegan-friendly too.
Natural and eco-friendly
Made in the UK by BeeBee Wraps from completely natural materials, each wrap consists of a square of certified organic cotton infused with responsibly sourced rosin, and plant-derived rice bran wax and sumac waxes. The beautiful print of tropical leaves is printed with organic fabric dyes, so you can rest assured that they're completely free from harsh chemicals and plastic. And because they're made in the UK rather than being shipped in from further afield, they've already been on one less energy-consuming plane trip or sea voyage than some other food wraps you can buy.
Seal in the freshness
Easy to use, simply place your food on the wrap and then mould the wrap around it – the warmth of your hands will soften it and help create a seal that will stay in place as it cools, so you don't need any additional clips or ties.
Versatile
These wraps are great for covering, storing and wrapping any food that you'd usually store in cling film or plastic bags, including sandwiches, leftovers from dinner, fresh fruit and veg. They allow food to breathe, making them ideal for storing food like cheese, bread and leafy greens that can 'sweat' and go soggy if they're wrapped in plastic. You can use them to cover a bowl or plate – just place the flat wrap over the top and fold down the edges – or fold them up to form a pouch for salad in the fridge, or for transporting snacks like nuts, fruit or biscuits.
Washable and reusable
Get the most out of your wraps by washing them by hand in cold, soapy water and then leaving them to air-dry. They can then be rolled up and stored, ready to use again – with care, they will last for up to a year.
Compostable
At the end of their life, these wraps can be put on an active compost heap where they'll break down naturally over time, and they can also be used as firelighters on a stove or barbecue. Either way, there'll be no waste, and absolutely nothing that will end up in landfill.
Please note: not suitable for use with raw meat, fish or hot food.
About BeeBee Wraps
Founder Kath Austin set up Cambridge-based BeeBee Wraps in 2016 with a simple ethos – to make planet-friendly alternatives to everyday products. They only make products that are fully biodegradable so they go back to nature, are better than plastic, and are beautiful not boring.
Pack of 3 – 18, 26 and 33cm Sq.
Standard


3 - 8 days

Orders £60.00 and over - FREE




Order under £50.00 - FREE

Express
Next day if ordered before 7pm Monday to Saturday.
In 2 days if ordered outside these times and bank holidays*

Standard delivery cost + £3.00

Click & Collect

This item is not available in-store or for click & collect

myHermes Parcelshop

This item is not available in-store or for click & collect

International
Full details available here.
Returns
FREE returns! More information available here
*Some delivery methods may not be available in your area, the delivery page will display available methods during checkout.
"Great products"
star star star star star_border
Use these daily. Keeps food fresh and look great. Great product
You've viewed
1
of
1
reviews