Banana Keep Fresh Drawstring Storage Bag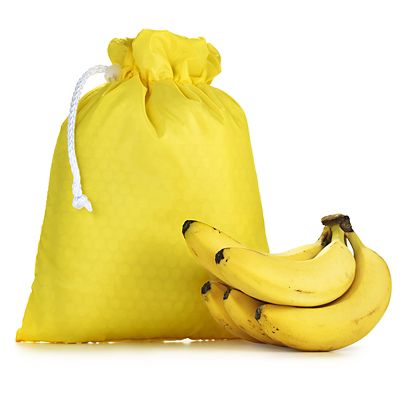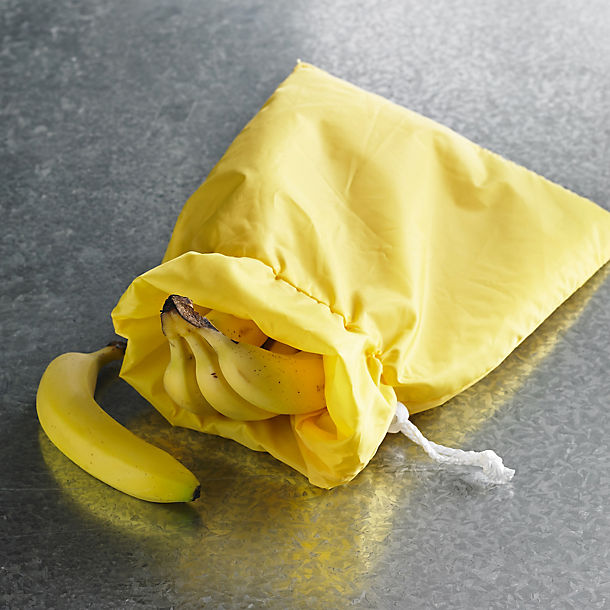 chevron_left
Previous
chevron_right
Next
zoom_in
Hover over image to zoom
swipe
Swipe for more media
play_circle_outline
This product has been discontinued.
error_outline Please note: this bundle will arrive in more than one delivery.
Product Features
Keeps bananas fresh for up to 2 weeks
Prevents over-ripening and blackening
Store in the fridge
Holds up to 6-8 bananas
Lakeland 3 year guarantee included
View full product description
Banana Keep Fresh Drawstring Storage Bag
Product number: 12159
How many bananas do you throw away because they have ripened too quickly?
"Too many" was the answer from Christine Coombes when she lived in the middle of the Devon countryside and could only shop once a week. Christine invented the Banana Bag – a bright yellow store for the UK's best-selling fruit – and the rest is history!
When kept in the fridge, it provides bananas with the exact amount of insulation and air needed to stop the flesh over-ripening. Amazingly, the fruit will stay just as it should for around a fortnight – twice its normal lifespan.
Wipe-clean.
Product dimensions
29 x 35cm (11½" x 13¾")
Standard


3 - 8 days

Orders £60.00 and over - FREE




Order under £50.00 - FREE

Express
Next day if ordered before 7pm Monday to Saturday.
In 2 days if ordered outside these times and bank holidays*

Standard delivery cost + £3.00

Click & Collect

This item is not available in-store or for click & collect

myHermes Parcelshop

This item is not available in-store or for click & collect

International
Full details available here.
Returns
FREE returns! More information available here
*Some delivery methods may not be available in your area, the delivery page will display available methods during checkout.
"A Saving Saviour!"
star star star star star
Bananas have certainly kept fresh in the bag, preventing over ripening too.
"Brilliant!"
star star star star star
This bag is something else, I wish I had heard of it years ago. It does exactly what it says on the tin.
"Banana bag"
star star star star star
This really does do what it says. I have kept bananas in the bag for 2wks and they have been prefect.
"Banana bag avoids wasting bananas"
star star star star star_border
This bag is effective and does what it is designed to do ie keeps bananas fresh in fridge and therefore stops wastage due to over-ripe fruit. The bananas do discolour in time but that is expected. The bag does take up quite a lot of space in the fridge but I suppose that is unavoidable since bananas are a bulky fruit.
"Brilliant but bulky"
star star star star star_border
This review is for an older version of this product
I discovered the need to store bananas in the fridge during the pandemic when we only got a food order delivered every 10 days. I used a plastic bag, which was okay, but this bag seems to work a bit better. I learned quickly that stored in this way, the browning of the skin did not correspond to the over-ripening of the fruit; the banana inside is as good as ever. The only drawback: it's bulkier than the plastic bag I used to use, and takes up a lot of room in the fridge.
You've viewed
5
of
347
reviews