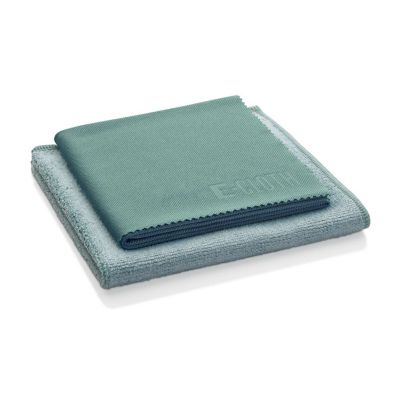 E-cloth® Kitchen Pack
E-cloth® Kitchen Pack
Product number: 9319
You can't put a price on peace of mind
All products include our 3 year guarantee so you can shop with confidence
Lakeland 3 year guarantee included
Product Features
Twin pack of microfibre kitchen cloths
Thick microfibre cloth for initial cleaning
Thin e-cloth for a final mirror-shine polish
Effective cleaning with just water
Specially designed for stainless steel appliances
E-cloth® Kitchen Pack

Designed to help you restore the shine to the stainless steel appliances in your kitchen this twin Kitchen Pack from e-cloth gives a smear-free finish without the use of harsh chemicals. Comprising of a larger, ticker-than-average microfibre cloth for an initial clean up, and a smaller e-cloth for a final mirror-shine polish, this pack keeps your kitchen looking its sparkling best with just the need for a bit of water.

About e-cloths

Saving time, money and providing brilliant results, e-cloth's range of cleaning cloths and solutions are the easy way to clean without the use of chemicals. Using just water, e-cloths are suitable for windows, hard floors and surfaces, making them useful in just about every room in the house.

How e-cloths Work

Densely packing high-quality microfibers, 480,000 fibres per cm² to be exact, the sheer volume of fibres work to effectively break up dust, dirt and grease as you wipe the cloth across the surface, using just water. As these cloths use the highest quality of microfibre fibres, and are specifically chosen for their particular uses, they easily outperform and outlast traditional cloths and others made with lower-quality materials.

Whatever room in the house you are cleaning, e-cloths are the ideal quick, easy and safe cloth to ensure it remains looking pristine for a long time.

Microfibre cloth 50 x 39cm (19¾" x 15¼"); E-cloth 32cm (12½") sq.

Delivery

UK Mainland
Standard Delivery
3-5 Working Days
Express Delivery
Next Day (if ordered before 7pm Monday to Friday. 2 days after 7pm including Weekends/Bank Holidays)*
Sunday Express Delivery
Sunday (if ordered between 6pm Friday and 6pm Saturday)*
Click & Collect
Available at Delivery Page

BFPO & Foreign & Commonwealth Office
Standard Delivery
3-5 Working Days*

Eire (Ireland)
Standard Delivery
7 Working Days*

EU countries
Standard Delivery
7-10 Working Days*

Rest of the world
Standard Delivery
7-10 Working Days*

* Some delivery services may not be available in your area, the delivery page will display the available delivery services during checkout.

Returns

We want you to enjoy shopping at Lakeland with complete confidence, which is why every single product you buy from us comes with a 3 year guarantee – just bring along your receipt or emailed order confirmation as proof of purchase. Plus all returns are free.

To do this, it would be really helpful if you could call one of our friendly Customer Services Advisors on 015394 88100 first, as there are occasions when it may not be necessary for you to be inconvenienced by sending a product back to us.

E-cloth® Kitchen Pack

"Does the job"

Mr Hulbert

07 February 2018

It does exactly what it says on the cloth!

E-cloth® Kitchen Pack

"my new secret weapons"

M

15 April 2013

Bought these in store yesterday and I am already planning to go back and stock up! I've cleaned all sorts with them yesterday and today, not just stainless steel (although my hob, oven and cooker hood are all now gleaming, even the interior of the oven!), I've cleaned the doors, windows, mirrors, pictures, wooden tables... Need I go on. These work. Full stop. I've washed them twice already and they are like new. Superb product.

E-cloth® Kitchen Pack

"Men can't fly; E-cloths probably can."

Terence

08 April 2013

I belong to a long line of sceptics who put their faith in elbow grease and detergent. My wife and kids are more dishwasher-inclined. However, the man who fitted our kitchen winked as he left and said 'make sure to get an E-cloth from Lakeland'. He was ex-mouseman, so I took note and bought one, thinking 'no chance! Nothing is that good'. I was wrong. E-cloths are absolutely magnificent. They polish granite, chrome and glass to a perfect finish and they wash a treat. Buy one! Do what I did and buy the window set and a third 'secret' pack to hide in a drawer for your specs. 10/10 no sweat!