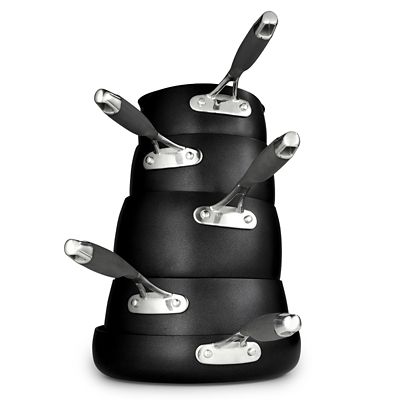 Lakeland Hard Anodised Bell Shaped 5-Piece Pan Set
Lakeland Hard Anodised Bell Shaped 5-Piece Pan Set
Product number: 73065
You can't put a price on peace of mind
All products include our 3 year guarantee so you can shop with confidence
---
Product Features
Milk pan, 3 lidded saucepans and frying pan
Heat up quickly and evenly
Triple layer of non-stick
Suitable for all hobs and oven safe
Dishwasher safe
Part of our Bell Shaped Cookware range
We are expecting delivery of this product on 02 Mar 2018 and we will dispatch it as soon as it comes into stock

Free UK delivery & returns
Lakeland 3 year guarantee included
Product Features
Milk pan, 3 lidded saucepans and frying pan
Heat up quickly and evenly
Triple layer of non-stick
Suitable for all hobs and oven safe
Dishwasher safe
Part of our Bell Shaped Cookware range
Lakeland Hard Anodised Bell Shaped 5-Piece Pan Set

If you're setting up home or updating your old kitchenware, you need a hard-working and reliable set of pans – and it certainly doesn't hurt if they're attractive too. Offering superb performance and super-smart looks, this striking set of five of the most useful pans from our Hard Anodised Bell Shaped Pan Range will get you off to a fantastic start – and saves you money on buying them individually.

Set Comprises:

14cm Milk Pan – with dual pouring lips for milk, soup or sauces. 1.2 litre.
16cm Saucepan – Just the right size if you're cooking or reheating supper for one. 1.9 litre.
18cm Saucepan – Ideal for cooking rice evenly or simmering. 2.8 litre.
20cm Saucepan – Perfect for risotto, curries and casseroles. 3.3 litre.
24cm Frying Pan – Medium-sized for everything from omelettes to pan-fried fish.

About Lakeland Hard Anodised Bell Shaped Pans

With wide bases, the softest sheen on their rounded charcoal bodies, stainless steel accents and glass lids, our handsome, hard-wearing, hard anodised pans will maintain their good looks for years to come. But there's much more to this range than being really good-looking…

Outstanding Performance

Cooking beautifully thanks to their energy-efficient, heavy-gauge aluminium construction, these durable pans offer ultra-fast heat conductivity and superb heat distribution, with no hot spots that can scorch food.

Non-stick

You don't want to spend ages scrubbing at the sides of your pans, either with a spoon when you're stirring them on the hob or with a brush while you're washing up, so we've added three layers of hard-wearing, scratch-resistant PFOA-free Eclipse non-stick coating on the inside. There's also a layer of non-stick on the outside, so they're incredibly easy to clean – especially as they're dishwasher safe too.

Easy to Use

Wider bases offer an attractive, contemporary twist on the 'pot-bellied' pans of old, but they also make for easier stirring, with more rounded, spoon-friendly 'corners'. And the riveted stainless steel handles all feature an ergonomically shaped, soft-grip silicone coating that keeps them cooler to the touch, helps you get a good grip, and makes them very comfortable to lift and carry.

Glass Lids

Helping you to keep an eye on whatever you're cooking, all the lidded pans in the range come with glass lids, which feature riveted stainless steel handles with a silicone cover for stay-cool lifting and stirring.

Versatile

Suitable for all hobs including induction, they're also oven safe up to 180°C.

Pans within this set are also available to buy separately.

Oven safe
Combination Oven safe
Dishwasher safe

Delivery

UK Mainland
Standard Delivery
3-5 Working Days
Express Delivery
Next Day (if ordered before 7pm Monday to Friday. 2 days after 7pm including Weekends/Bank Holidays)*
Sunday Express Delivery
Sunday (if ordered between 6pm Friday and 6pm Saturday)*
Click & Collect
Available at Delivery Page

BFPO & Foreign & Commonwealth Office
Standard Delivery
3-5 Working Days*

Eire (Ireland)
Standard Delivery
7 Working Days*

EU countries
Standard Delivery
7-10 Working Days*

Rest of the world
Standard Delivery
7-10 Working Days*

* Some delivery services may not be available in your area, the delivery page will display the available delivery services during checkout.

Returns

We want you to enjoy shopping at Lakeland with complete confidence, which is why every single product you buy from us comes with a 3 year guarantee – just bring along your receipt or emailed order confirmation as proof of purchase. Plus all returns are free.

To do this, it would be really helpful if you could call one of our friendly Customer Services Advisors on 015394 88100 first, as there are occasions when it may not be necessary for you to be inconvenienced by sending a product back to us.

There are currently no reviews, be the first to write one!

Sign in and write a review

Save over 20% compared to buying individually

Save over 20% on this 5-piece set (£205.95 if bought individually).