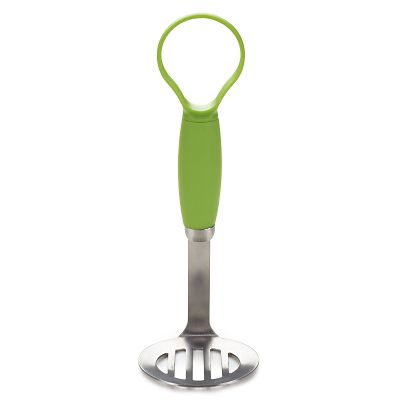 Lakeland Avocado Masher
Lakeland Avocado Masher
Product number: 72197
You can't put a price on peace of mind
All products include our 3 year guarantee so you can shop with confidence
3 year guarantee included
Product Features
Double-ended avocado prep tool
With a scraper and masher
Makes awkward avocado prep a breeze
Soft-grip handle
Lakeland Avocado Masher

Breakfast, lunch or dinner… thanks to their 'good' fat content, avocados are finding their way onto our plates at any time of day, but there's still no getting away from the fact that they are also one of the trickiest fruits to prepare.

Here to help, our double-ended Avocado Masher Tool features a special scraper on one end to make it easier to scoop out the flesh and remove the stone plus a stainless steel avocado masher to create the perfect green mash for salsas, pasta sauces and guacamole.

With a comfortable soft-grip handle.

22cm H.

Delivery

UK Mainland
Standard Delivery
3-5 Working Days
Express Delivery
Next Day (if ordered before 7pm Monday to Friday. 2 days after 7pm including Weekends/Bank Holidays)*
Sunday Express Delivery
Sunday (if ordered between 6pm Friday and 6pm Saturday)*
Click & Collect
Available at Delivery Page

BFPO & Foreign & Commonwealth Office
Standard Delivery
3-5 Working Days*

Eire (Ireland)
Standard Delivery
7 Working Days*

EU countries
Standard Delivery
7-10 Working Days*

Rest of the world
Standard Delivery
7-10 Working Days*

* Some delivery services may not be available in your area, the delivery page will display the available delivery services during checkout.

Returns

We want you to enjoy shopping at Lakeland with complete confidence, which is why every single product you buy from us comes with a 3 year guarantee – just bring along your receipt or emailed order confirmation as proof of purchase. Plus all returns are free.

To do this, it would be really helpful if you could call one of our friendly Customer Services Advisors on 015394 88100 first, as there are occasions when it may not be necessary for you to be inconvenienced by sending a product back to us.

Lakeland Avocado Masher

"perfect purchase"

29 August 2017

superb utensil does the job perfectly & so easy to clean.

Lakeland Avocado Masher

"Disappointing"

10 July 2017

The dual ended tool is fine in theory, but in practice you need to rinse it between switching ends to avoid getting avocado goo over your fingers. I'd also say that the masher is only marginally more effective than a fork, and considerably less effective than a spud masher. You probably won't use this much even if, like me, you regularly eat avo on toast.

A note from the team

Thank you for placing your review. We're sorry to hear you've been disappointed with this product and will be in touch soon.