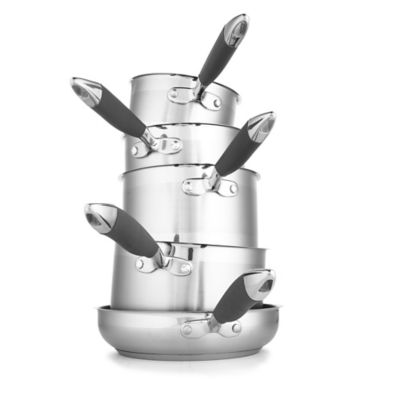 Lakeland 5-Piece Stainless Steel Pan Set
Lakeland 5-Piece Stainless Steel Pan Set
Product number: 71767
You can't put a price on peace of mind
All products include our 3 year guarantee so you can shop with confidence
---
Product Features
16, 18 and 20cm Lidded Saucepans, 14cm Milk Pan and 24cm Frying Pan
Aluminium bases for even heat distribution
Suitable for induction hobs and oven safe up to 200°C
In Stock

Free UK delivery & returns
3 year guarantee included
Product Features
16, 18 and 20cm Lidded Saucepans, 14cm Milk Pan and 24cm Frying Pan
Aluminium bases for even heat distribution
Suitable for induction hobs and oven safe up to 200°C
Frequently bought together
Lakeland 5-Piece Stainless Steel Pan Set

With a pan for every task, this great value 5 Piece Stainless Steel Pan Set from our signature range will be an invaluable addition to your kitchen kit, or make a great gift for someone who's setting up home.

Buying this frying pan and saucepan set will save you money on the individual prices.

Each set includes:

16cm Lidded Saucepan - Ideal for heating portions of veg, tinned soup or even for a portion or two of scrambled egg. 1.9 litre.
18cm Lidded Saucepan - Just right for cooking rice for the family, stewing fruit for a crumble or whisking up a tasty sauce. 2.7 litre.
20cm Lidded Saucepan - Perfectly proportioned for a big batch of mash, rustling up a bolognese or creating a risotto. 3.7 litre.
14cm Milk Pan - Ideal for warming milk or making sauces. 1.2 litre
24cm Frying Pan - A family-sized frying pan for pancakes, omelettes or breakfast fry-ups.

Each pan in this stylish pan set benefits from:

Encapsulated Aluminium Base

Solid and reliable, with encapsulated aluminium bases which allow for even heat distribution and less hot spots, to ensure all of your food is gets equal access to heat. What's more, it retains heat better for more efficient cooking.

Suitable For All Hobs

For complete convenience and versatility this pan set is suitable for all hobs, including induction, so whatever hob you have in your kitchen, they will deliver the same great performance and look great while doing it.

Other Features

The saucepans have vented glass lids to let you check on the progress of food without letting out all the heat and steam. They also feature comfy silicone handles to make handling easier.

Both the milk pan and the frying pan have a triple layer of high quality non-stick.

The full range of stainless steel saucepans, frying pans and casserole pans are also available to buy separately – find the full range of Lakeland Stainless Steel Pans here.

Comprises 16, 18 and 20cm Saucepans, 14cm Milk Pan and 24cm Non-Stick Coated Frying Pan.

Oven safe
Dishwasher safe

Delivery

UK Mainland
Standard Delivery
3-5 Working Days
Express Delivery
Next Day (if ordered before 7pm Monday to Friday. 2 days after 7pm including Weekends/Bank Holidays)*
Sunday Express Delivery
Sunday (if ordered between 6pm Friday and 6pm Saturday)*
Click & Collect
Available at Delivery Page

BFPO & Foreign & Commonwealth Office
Standard Delivery
3-5 Working Days*

Eire (Ireland)
Standard Delivery
7 Working Days*

EU countries
Standard Delivery
7-10 Working Days*

Rest of the world
Standard Delivery
7-10 Working Days*

* Some delivery services may not be available in your area, the delivery page will display the available delivery services during checkout.

Returns

We want you to enjoy shopping at Lakeland with complete confidence, which is why every single product you buy from us comes with a 3 year guarantee – just bring along your receipt or emailed order confirmation as proof of purchase. Plus all returns are free.

To do this, it would be really helpful if you could call one of our friendly Customer Services Advisors on 015394 88100 first, as there are occasions when it may not be necessary for you to be inconvenienced by sending a product back to us.

There are currently no reviews, be the first to write one!

Sign in and write a review

Save 20% compared to buying individually

Save 25% on this 5-piece set (£170.95 if bought individually).