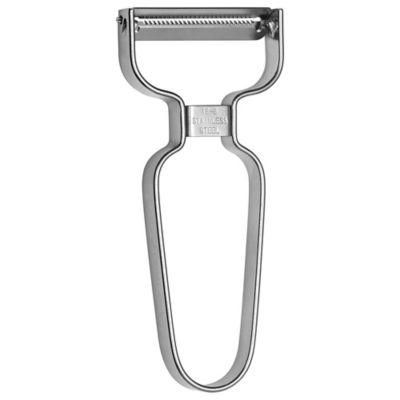 SharpPeel Super-Fine Julienne Peeler
SharpPeel Super-Fine Julienne Peeler
Product number: 71654
You can't put a price on peace of mind
All products include our 3 year guarantee so you can shop with confidence
---
Product Features
Super-fine Julienne peeler
Create colourful salads, crudités and garnishes
Great for vegetable spaghetti or fine shreds of zest
Super-strong stainless steel blades
Dishwasher safe
Quick! Last chance to buy

Free UK returns
3 year guarantee included
Product Features
Super-fine Julienne peeler
Create colourful salads, crudités and garnishes
Great for vegetable spaghetti or fine shreds of zest
Super-strong stainless steel blades
Dishwasher safe
Frequently bought together
SharpPeel Super-Fine Julienne Peeler

Eliminating the need to be a whizz with a knife for perfect results, the SharpPeel Super Fine Julienne Peeler helps you produce brightly coloured heaps of beetroot, carrot, parsnip, or even radish, in just a jiffy. Designed for ease of use, the super-sharp teeth of this peeler will help you make angel-hair spaghetti or vermicelli from your vegetables with ease. And, as the results are so fine, it's the ideal way to cram a healthy five-a-day into family meals.

About SharpPeel Peelers

You might think a peeler is a peeler, but the super-sharp, precision stainless steel blades on this range make them completely effortless – we'd go so far as to say they actually make peeling a pleasure. Developed in Japan, they're really efficient and literally glide with the lightest touch, taking off a wafer-thin peeling so you don't waste any of the fruit or veg. Even tough butternut squash skin has met its match! We know it's a bit sad but after smoothly working our way through a sack full of veg, we really love them.

Delivery

UK Mainland
Standard Delivery
3-5 Working Days
Express Delivery
Next Day (if ordered before 7pm Monday to Friday. 2 days after 7pm including Weekends/Bank Holidays)*
Sunday Express Delivery
Sunday (if ordered between 6pm Friday and 6pm Saturday)*
Click & Collect
Available at Delivery Page

BFPO & Foreign & Commonwealth Office
Standard Delivery
3-5 Working Days*

Eire (Ireland)
Standard Delivery
7 Working Days*

EU countries
Standard Delivery
7-10 Working Days*

Rest of the world
Standard Delivery
7-10 Working Days*

* Some delivery services may not be available in your area, the delivery page will display the available delivery services during checkout.

Returns

We want you to enjoy shopping at Lakeland with complete confidence, which is why every single product you buy from us comes with a 3 year guarantee – just bring along your receipt or emailed order confirmation as proof of purchase. Plus all returns are free.

To do this, it would be really helpful if you could call one of our friendly Customer Services Advisors on 015394 88100 first, as there are occasions when it may not be necessary for you to be inconvenienced by sending a product back to us.

There are currently no reviews, be the first to write one!

Sign in and write a review

Buy one, get one HALF PRICE

Buy one, get one HALF PRICE on the SharpPeel Range (full-priced items only).