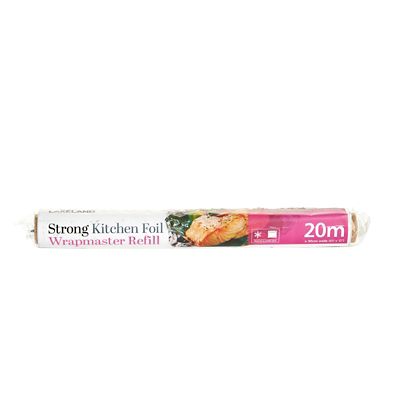 Lakeland Strong Foil Wrapmaster Refill 30cm x 20m
Lakeland Strong Foil Wrapmaster Refill 30cm x 20m
Product number: 70306
You can't put a price on peace of mind
All products include our 3 year guarantee so you can shop with confidence
---
Product Features
Extra-strong, long-lasting foil
20 metre roll to fit the Wrapmaster Dispenser
For storing, lining, wrapping and roasting
30% thicker than most other brands
3 year guarantee included
Product Features
Extra-strong, long-lasting foil
20 metre roll to fit the Wrapmaster Dispenser
For storing, lining, wrapping and roasting
30% thicker than most other brands
Frequently bought together
Lakeland Strong Foil Wrapmaster Refill 30cm x 20m

Cooks love our foil because it's great for freezing, storing, lining, wrapping joints and cooking vegetables on the barbecue – and the efficient press-down blade of our reusable Wrapmaster Dispenser makes it so easy to cut just the amount you need.

Just the right dimensions to fit into the Wrapmaster, this refill roll is ideal for lining oven trays and wide enough to cover a dinner plate.

We recommend our foil for:

Wrapping joints of meat

Lining trays

Barbecue cooking

Packed lunches

Freezer storage

Crafting

Emergency gift-wrap

And even fancy dress costumes…

Thicker, tougher, longer-lasting… Lakeland Foil is extra thick. In fact it's 30% thicker than most other brands to give it the extra strength for which it is famous.

30cm x 20m.

Delivery

UK Mainland
Standard Delivery
3-5 Working Days
Express Delivery
Next Day (if ordered before 7pm Monday to Friday. 2 days after 7pm including Weekends/Bank Holidays)*
Sunday Express Delivery
Sunday (if ordered between 6pm Friday and 6pm Saturday)*
Click & Collect
Available at Delivery Page

BFPO & Foreign & Commonwealth Office
Standard Delivery
3-5 Working Days*

Eire (Ireland)
Standard Delivery
7 Working Days*

EU countries
Standard Delivery
7-10 Working Days*

Rest of the world
Standard Delivery
7-10 Working Days*

* Some delivery services may not be available in your area, the delivery page will display the available delivery services during checkout.

Returns

We want you to enjoy shopping at Lakeland with complete confidence, which is why every single product you buy from us comes with a 3 year guarantee – just bring along your receipt or emailed order confirmation as proof of purchase. Plus all returns are free.

To do this, it would be really helpful if you could call one of our friendly Customer Services Advisors on 015394 88100 first, as there are occasions when it may not be necessary for you to be inconvenienced by sending a product back to us.

Lakeland Strong Foil Wrapmaster Refill 30cm x 20m

"Great timesaver"

20 September 2017

Excellent product,very strong foil,wraps around dishes easily

Lakeland Strong Foil Wrapmaster Refill 30cm x 20m

"the only foil I ever use"

Caroline

24 January 2017

I first used this foil many, many years ago and it is honestly the best foil I ever use, living in Scotland there aren't many Lakeland stores that are either easy access or close by, so I'm more in the original Lakeland in Cumbria store that any other where I stock up on foil, but if necessary I will order online rather than use any other make. Excellent quality, far batter than any other make.

Lakeland Strong Foil Wrapmaster Refill 30cm x 20m

"Simply the Best Foil ever."

Jennifer

05 February 2015

This Aluminium Foil is just so superior to any other foil I have ever tried. It is just so strong and weighty making it perfect for wrapping and sealing for steaming or lining a pan when grilling or oven cooking.It fits perfectly in my Leifheit dispenser so it's great that I can buy in a refill pack as it is cheaper than buying with the cutting box which I do not need. I live in Portugal now and although I can buy many different brands of foil here I would not swap for this excellent foil which Lakeland deliver to me in Portugal.