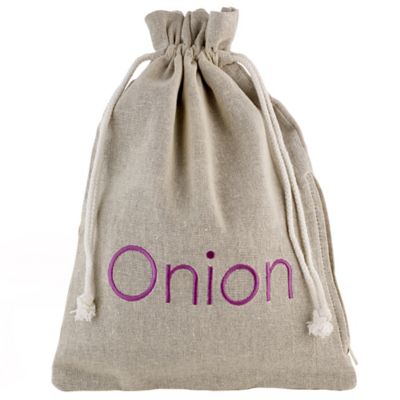 Onion Preserving Bag
Onion Preserving Bag
Product number: 70294
You can't put a price on peace of mind
All products include our 3 year guarantee so you can shop with confidence
---
Product Features
Onion preserving bag
Blackout lining restricts light
Wide drawstring neck with side zip opening
Breathable material ensures air circulation
Machine washable
3 year guarantee included
Product Features
Onion preserving bag
Blackout lining restricts light
Wide drawstring neck with side zip opening
Breathable material ensures air circulation
Machine washable
Onion Preserving Bag

Onions are a staple in so many dishes, it is always handy to have them in the kitchen ready for your evening meal. With our Onion Preserving Bag, you can help ensure you keep your onions fresher for longer, meaning they will always be ready to be sliced and thrown into fajitas or serving as the base for a rich sauce.

Whether it's colourful red onions, or a large Spanish-style white onion, this linen-look bag keeps them from sprouting for longer. With blackout lining on the inside, the bag restricts the amount of light that gets in. It is part of a range of preserving bags aimed at helping you keep fresh produce fresher for longer to minimise the amount of food you throw away, saving you some pennies in the process.

About Lakeland Preserving Bags

Aiming to help keep your favourite and most commonly used favourites fresher for longer, this range of preserving bags make fine additions to any busy kitchen.

Made from breathable polycotton material, the bags allow for good air circulation which helps to reduce the moisture inside the bag, preventing the build-up of bacteria and helping its contents stay fresher for longer. Each bag has a wide neck for easy filling, and a drawstring top to ensure it remains closed until needed, while the bags also have a zipped side opening to ensure that first-come is first-served.

Machine washable at 30°C. Please note that the bag may shrink slightly after first wash.

28 x 39cm.

Delivery

UK Mainland
Standard Delivery
3-5 Working Days
Express Delivery
Next Day (if ordered before 7pm Monday to Friday. 2 days after 7pm including Weekends/Bank Holidays)*
Sunday Express Delivery
Sunday (if ordered between 6pm Friday and 6pm Saturday)*
Click & Collect
Available at Delivery Page

BFPO & Foreign & Commonwealth Office
Standard Delivery
3-5 Working Days*

Eire (Ireland)
Standard Delivery
7 Working Days*

EU countries
Standard Delivery
7-10 Working Days*

Rest of the world
Standard Delivery
7-10 Working Days*

* Some delivery services may not be available in your area, the delivery page will display the available delivery services during checkout.

Returns

We want you to enjoy shopping at Lakeland with complete confidence, which is why every single product you buy from us comes with a 3 year guarantee – just bring along your receipt or emailed order confirmation as proof of purchase. Plus all returns are free.

To do this, it would be really helpful if you could call one of our friendly Customer Services Advisors on 015394 88100 first, as there are occasions when it may not be necessary for you to be inconvenienced by sending a product back to us.

Onion Preserving Bag

"first class"

31 August 2017

This onion bag is very good and it keeps them fresh

Onion Preserving Bag

"Onion Preserving bag"

30 July 2017

Great way to store onions in a dry and odourless way.

Special Offer: 3 for 2

Buy any 3 Preserving Bags and get the cheapest item FREE.