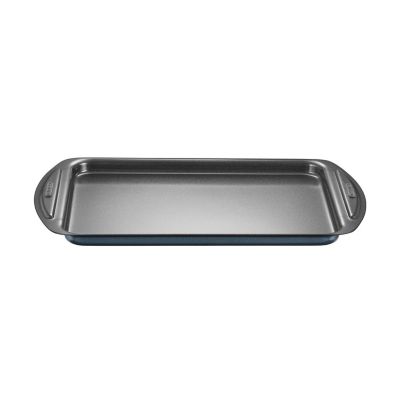 Lakeland Individual Baking Tray
Lakeland Individual Baking Tray
Product number: 70163
You can't put a price on peace of mind
All products include our 3 year guarantee so you can shop with confidence
---
Product Features
Perfect size for a meal for one or veggies for a few
Sit our Single Portion Baking Tray inside to keep food separate
Double layer of Quantum 2 professional non-stick
Sure-grip handles
Oven safe up to 240°C
Lakeland 3 year guarantee included
Product Features
Perfect size for a meal for one or veggies for a few
Sit our Single Portion Baking Tray inside to keep food separate
Double layer of Quantum 2 professional non-stick
Sure-grip handles
Oven safe up to 240°C
Lakeland Individual Baking Tray

Just the right size for a meal for one or potatoes for a few. Our Lakeland Single Portion Tray tin will also sit neatly inside it if you want to keep food separate.

Quality

Made from heavy-duty 1mm thick carbon steel, it has two layers of Quantum 2 professional non-stick, is oven safe up to 240°C and, because there are no rolled edges where water can collect and cause damage, it can go straight in the dishwasher for effortless clean-up.

Performance

Providing superb heat distribution for even cooking, it will not warp, twist or bend during cooking and the large handles with sure-grip silicone inserts mean getting it to and from the oven will be safe and easy.

No rolled edges

The rolled edges found on most bakeware introduce a difficult-to-dry space underneath the rim, and the edges themselves can be difficult to coat. We decided to leave the edges of out bakeware unrolled, removing the risk of water traps and uncoated carbon steel edges that might rust – making them completely dishwasher safe.

About the Lakeland Ovenware Range

We spent two years obsessing over every detail of our Lakeland Ovenware Range to make every piece the best it can be. Made from 1mm thick carbon steel, which is thicker than most you can buy, many same-sized pieces nest inside each other and differently sized items can also be stacked to save valuable cupboard space. Sure-grip handles make them easy to lift and a double layer of Quantum 2 professional non-stick provides superior food release. Every piece is also completely dishwasher safe, and many of the baking tins come with handy fill and sizing guides.

Supermarket versions might be slightly cheaper but they cannot compare with the exceptional quality and performance of this professional gauge range – and with more than 50 pieces available, they cannot compete with the variety either.

30 x 19cm (including handles). Internal 24 x 18cm.

Oven safe
Freezer safe
Dishwasher safe

Delivery

UK Mainland
Standard Delivery
3-5 Working Days
Express Delivery
Next Day (if ordered before 7pm Monday to Friday. 2 days after 7pm including Weekends/Bank Holidays)*
Sunday Express Delivery
Sunday (if ordered between 6pm Friday and 6pm Saturday)*
Click & Collect
Available at Delivery Page

BFPO & Foreign & Commonwealth Office
Standard Delivery
3-5 Working Days*

Eire (Ireland)
Standard Delivery
7 Working Days*

EU countries
Standard Delivery
7-10 Working Days*

Rest of the world
Standard Delivery
7-10 Working Days*

* Some delivery services may not be available in your area, the delivery page will display the available delivery services during checkout.

Returns

We want you to enjoy shopping at Lakeland with complete confidence, which is why every single product you buy from us comes with a 3 year guarantee – just bring along your receipt or emailed order confirmation as proof of purchase. Plus all returns are free.

To do this, it would be really helpful if you could call one of our friendly Customer Services Advisors on 015394 88100 first, as there are occasions when it may not be necessary for you to be inconvenienced by sending a product back to us.

Lakeland Individual Baking Tray

"Great"

Mrs Witts

03 January 2018

These are really handy for small one person portions.

Lakeland Individual Baking Tray

"good quality baking tray"

Mrs tytler

29 December 2017

Bought two of these and pleased with them, dishwasher safe which is always a bonus.

Lakeland Individual Baking Tray

"Lakeland Individual Baking tray"

Mrs De Carteret

30 October 2017

I'm really pleased with this little tray, It really is non-stick, and is so handy.

Buy 1 get 1 HALF PRICE

Buy 1 get 1 HALF PRICE (excluding any reduced price items) from the selected Bakeware and Ovenware range (lower priced item half price).