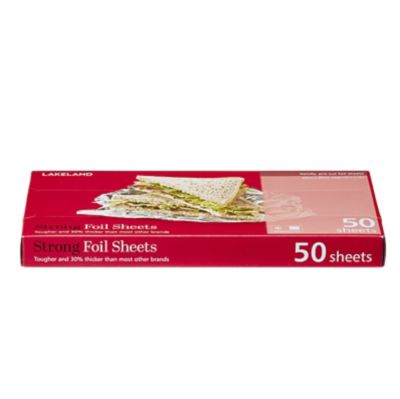 50 Lakeland Strong Foil Sheets
50 Lakeland Strong Foil Sheets
Product number: 70143
You can't put a price on peace of mind
All products include our 3 year guarantee so you can shop with confidence
3 year guarantee included
Product Features
Ready cut sheets of extra-strong, long-lasting foil
Each sheet 27 x 30cm
Ideal for wrapping sandwiches and baked potatoes
30% thicker than most other brands
Frequently bought together
50 Lakeland Strong Foil Sheets

We know you love our foil because it's great for freezing, storing, lining, wrapping joints and cooking vegetables on the barbecue – but if you only need a small piece, sometimes a bulky roll isn't particularly practical.

We created these pre-cut sheets especially for wrapping sandwiches and baked potatoes, to make fruit and veg parcels for the barbecue, or for storing leftovers, and they're great for caravanning and camping too.

We recommend our foil for:

Wrapping joints of meat
Lining trays
Barbecue cooking
Packed lunches
Freezer storage
Crafting
Emergency gift-wrap

Thicker, tougher, longer-lasting… Lakeland Foil is extra thick. In fact it's 30% thicker than most other brands to give it the extra strength for which it is famous.

50 sheets, each 27 x 30cm.

Delivery

UK Mainland
Standard Delivery
3-5 Working Days
Express Delivery
Next Day (if ordered before 7pm Monday to Friday. 2 days after 7pm including Weekends/Bank Holidays)*
Sunday Express Delivery
Sunday (if ordered between 6pm Friday and 6pm Saturday)*
Click & Collect
Available at Delivery Page

BFPO & Foreign & Commonwealth Office
Standard Delivery
3-5 Working Days*

Eire (Ireland)
Standard Delivery
7 Working Days*

EU countries
Standard Delivery
7-10 Working Days*

Rest of the world
Standard Delivery
7-10 Working Days*

* Some delivery services may not be available in your area, the delivery page will display the available delivery services during checkout.

Returns

We want you to enjoy shopping at Lakeland with complete confidence, which is why every single product you buy from us comes with a 3 year guarantee – just bring along your receipt or emailed order confirmation as proof of purchase. Plus all returns are free.

To do this, it would be really helpful if you could call one of our friendly Customer Services Advisors on 015394 88100 first, as there are occasions when it may not be necessary for you to be inconvenienced by sending a product back to us.

50 Lakeland Strong Foil Sheets

Quick and efficient for lining tins, wrapping cheese, celery and cakes.

50 Lakeland Strong Foil Sheets

"Very handy"

Mary

06 August 2017

I always have a stock of these at hand - so easy to pull out a sheet... Might be handy to also have a box with larger size sheets.

A note from the team

Thank you for your feedback, we'll pass your suggestion on to our buying team to consider.

50 Lakeland Strong Foil Sheets

"Lakeland strong foil sheets"

Mrs Tull

17 July 2017

Very strong foil sheets, I have re-used foil sheets.