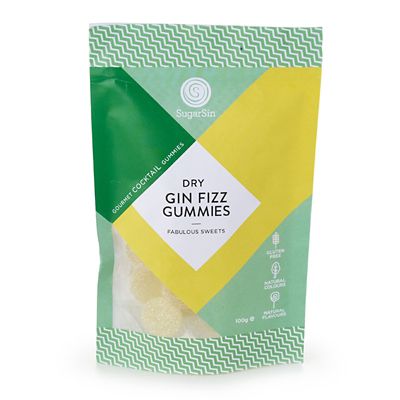 SugarSin Dry Gin Fizz Gummies Pouch 100g
SugarSin Dry Gin Fizz Gummies Pouch 100g
Product number: 61131
You can't put a price on peace of mind
All products include our 3 year guarantee so you can shop with confidence
---
Product Features
Gummy sweets for grown-ups
Jellies infused with the flavour of gin
Coated in 'fizzy' sugar crystals
Great gift for a fan of gin
Alcohol-free
Product Features
Gummy sweets for grown-ups
Jellies infused with the flavour of gin
Coated in 'fizzy' sugar crystals
Great gift for a fan of gin
Alcohol-free
Frequently bought together
SugarSin Dry Gin Fizz Gummies Pouch 100g

Chewy sweets strictly for grown-ups, these tangy little SugarSin Dry Gin Fizz Gummy tongue-tinglers recreate the refreshing zest of a gin fizz cocktail. Infused with real gin, blended with lemon and topped with sour sugar fizz, they make a fantastic gift for gin lovers or anyone who wants to savour their favourite spirit without having to wait for gin o'clock to roll round!

About SugarSin

Born from a lifelong passion for all things sweet, SugarSin travel the globe tasting countless confections to fulfil their mission of making the world's most fabulous, unique, delicious gourmet sweets – that are just as beautiful to look at as they are to taste.

100g.

Delivery

UK Mainland
Standard Delivery
3-5 Working Days
Express Delivery
Next Day (if ordered before 7pm Monday to Friday. 2 days after 7pm including Weekends/Bank Holidays)*
Sunday Express Delivery
Sunday (if ordered between 6pm Friday and 6pm Saturday)*
Click & Collect
Available at Delivery Page

BFPO & Foreign & Commonwealth Office
Standard Delivery
3-5 Working Days*

Eire (Ireland)
Standard Delivery
7 Working Days*

EU countries
Standard Delivery
7-10 Working Days*

Rest of the world
Standard Delivery
7-10 Working Days*

* Some delivery services may not be available in your area, the delivery page will display the available delivery services during checkout.

Returns

We want you to enjoy shopping at Lakeland with complete confidence, which is why every single product you buy from us comes with a 3 year guarantee – just bring along your receipt or emailed order confirmation as proof of purchase. Plus all returns are free.

To do this, it would be really helpful if you could call one of our friendly Customer Services Advisors on 015394 88100 first, as there are occasions when it may not be necessary for you to be inconvenienced by sending a product back to us.

There are currently no reviews, be the first to write one!

Sign in and write a review

Useful documents

Buy one, get one HALF PRICE

Buy one get one half price mix 'n' match on selected confectionery (lowest priced item half price).