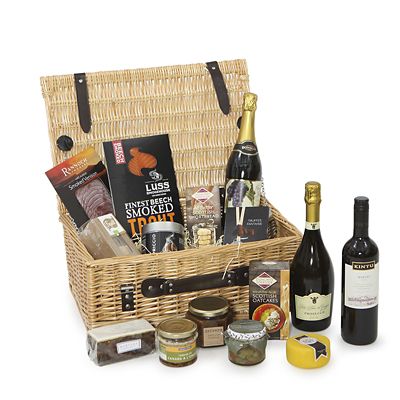 Hay Hampers Christmas Gourmet Hamper
Hay Hampers Christmas Gourmet Hamper
Product number: 61022
You can't put a price on peace of mind
All products include our 3 year guarantee so you can shop with confidence
---
Product Features
Indulgent gourmet hamper
Sweet and savoury treats to suit every taste and mood
Beautifully presented in a handsome wicker basket
A great gift for a food lover
Despatched direct from Hay Hampers
Order now for delivery between 19th & 21st December 2017
Find out more
In Stock

Free UK delivery & returns
Product Features
Indulgent gourmet hamper
Sweet and savoury treats to suit every taste and mood
Beautifully presented in a handsome wicker basket
A great gift for a food lover
Despatched direct from Hay Hampers
Order now for delivery between 19th & 21st December 2017
Find out more
Hay Hampers Christmas Gourmet Hamper

An indulgent collection of sweet and savoury flavours, this Hay Hampers Christmas Gourmet Hamper is packed to its wicker rafters with gourmet delights. From the finest venison and smoked trout to delicious savoury nibbles and sweet treats, this charming wicker hamper is crammed full of gourmet delights – just pop the Prosecco and enjoy!

This gourmet food hamper includes:

Kintu Merlot (750ml) V
Dalla Balla Prosecco (750ml) V
Donelli Sparkling Grape Juice (75cl) V
Roger Vidal Duck A L'Orange Terrine (180g)
Rannoch Smokery Roast Smoked Venison (100g)
Luss Smokehouse Finest Beech Smoked Trout (100g)
Snowdonia Cheese Co. Beechwood Mature Cheddar (200g)
Martins Artisan Iced Fruit Cake (400g) V
Artisan Sicilian Olives in Jar (190g) V
Figuli Handmade Italian Minitele Crackers (50g) V
Duncans of Deeside Wheat Free Scottish Oatcakes (200g) V
Mathez French Chocolate Truffles (200g) V
Duncans of Deeside All Butter Scottish Shortbread (200g) V
Drivers Real Ale Chutney (350g) V
Manuel Italian Capriccio Coffee Beans (125g) V

About Hay Hampers

A luxury gift from Hay Hampers is sure to please even the most discerning of food-lovers. Speciality fine foods and quality wines are sourced from near and far and beautifully presented – what a delightful present to receive on Christmas morning!

Age restriction applies. You must be 18 or over to buy this item

Delivery

Available exclusively online - Click & Collect is not available for orders containing this item.

UK Mainland
Standard Delivery
3-5 Working Days
Express Delivery
Next Day (if ordered before 7pm Monday to Friday. 2 days after 7pm including Weekends/Bank Holidays)*
Sunday Express Delivery
Sunday (if ordered between 6pm Friday and 6pm Saturday)*
Click & Collect
Available at Delivery Page

BFPO & Foreign & Commonwealth Office
Standard Delivery
3-5 Working Days*

Eire (Ireland)
Standard Delivery
7 Working Days*

EU countries
Standard Delivery
7-10 Working Days*

Rest of the world
Standard Delivery
7-10 Working Days*

* Some delivery services may not be available in your area, the delivery page will display the available delivery services during checkout.

Returns

We want you to enjoy shopping at Lakeland with complete confidence, which is why every single product you buy from us comes with a 3 year guarantee – just bring along your receipt or emailed order confirmation as proof of purchase. Plus all returns are free.

To do this, it would be really helpful if you could call one of our friendly Customer Services Advisors on 015394 88100 first, as there are occasions when it may not be necessary for you to be inconvenienced by sending a product back to us.

There are currently no reviews, be the first to write one!

Sign in and write a review

Useful documents

Order now for delivery between 19th & 21st December 2017

This hamper is despatched direct from Hay Hampers. This hamper can only be delivered to UK mainland. The last order date is midday on Friday 14th December. Order now and Hay Hampers will deliver your hamper by courier between 19th & 21st December.