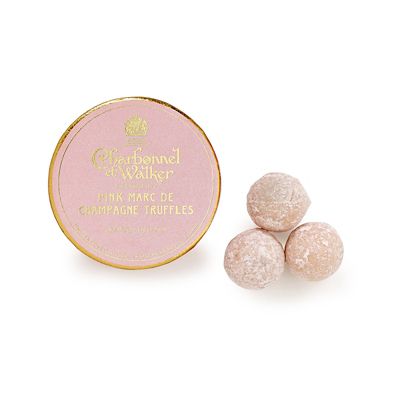 Charbonnel et Walker Pink Marc de Champagne Truffles Mini Box
Charbonnel et Walker Pink Marc de Champagne Truffles Mini Box
Product number: 60945
You can't put a price on peace of mind
All products include our 3 year guarantee so you can shop with confidence
---
Product Features
Exquisite Marc de Champagne truffles
Presented in a mini edition of Charbonnel's classic round box
Handmade using the finest milk chocolate
Perfect as a special stocking filler
Suitable for vegetarians
Product Features
Exquisite Marc de Champagne truffles
Presented in a mini edition of Charbonnel's classic round box
Handmade using the finest milk chocolate
Perfect as a special stocking filler
Suitable for vegetarians
Charbonnel et Walker Pink Marc de Champagne Truffles Mini Box

The iconic round Charbonnel et Walker Pink Marc de Champagne truffle box is now available in a cute smaller version, which contains just four of these deservedly famous and utterly sublime truffles.

About Charbonnel et Walker

Purveyors of fine chocolates and luxurious sugar confections, Charbonnel et Walker were established in 1875. It was King Edward VII, then Prince of Wales, who persuaded Madame Charbonnel to leave Paris and join Mrs Walker to establish a chocolaterie and confectionery house in London's Bond Street, and to this day they still follow traditional recipes, making everything by hand. Famed for their excellence, they're made by Royal Appointment to Her Majesty The Queen.

44g., (1248p per 100g.)

Delivery

UK Mainland
Standard Delivery
3-5 Working Days
Express Delivery
Next Day (if ordered before 7pm Monday to Friday. 2 days after 7pm including Weekends/Bank Holidays)*
Sunday Express Delivery
Sunday (if ordered between 6pm Friday and 6pm Saturday)*
Click & Collect
Available at Delivery Page

BFPO & Foreign & Commonwealth Office
Standard Delivery
3-5 Working Days*

Eire (Ireland)
Standard Delivery
7 Working Days*

EU countries
Standard Delivery
7-10 Working Days*

Rest of the world
Standard Delivery
7-10 Working Days*

* Some delivery services may not be available in your area, the delivery page will display the available delivery services during checkout.

Returns

We want you to enjoy shopping at Lakeland with complete confidence, which is why every single product you buy from us comes with a 3 year guarantee – just bring along your receipt or emailed order confirmation as proof of purchase. Plus all returns are free.

To do this, it would be really helpful if you could call one of our friendly Customer Services Advisors on 015394 88100 first, as there are occasions when it may not be necessary for you to be inconvenienced by sending a product back to us.

There are currently no reviews, be the first to write one!

Sign in and write a review

Useful documents

Buy One Get One Half Price

Buy one get one half price mix 'n' match on selected confectionery (lowest priced item half price).