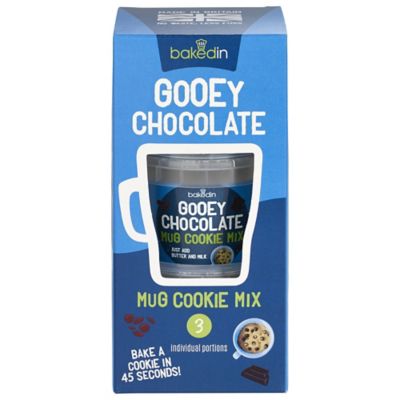 Baked In® Mug Gooey Chocolate Chip Cookie Mix
Baked In® Mug Gooey Chocolate Chip Cookie Mix
Product number: 60930
You can't put a price on peace of mind
All products include our 3 year guarantee so you can shop with confidence
---
Product Features
Make a gooey chocolate chip cookie in a mug
Takes just 45 seconds to bake in the microwave
Includes 3 portions and full instructions
Great stocking filler
Suitable for vegetarians
3 year guarantee included
Product Features
Make a gooey chocolate chip cookie in a mug
Takes just 45 seconds to bake in the microwave
Includes 3 portions and full instructions
Great stocking filler
Suitable for vegetarians
Baked In® Mug Gooey Chocolate Chip Cookie Mix

Make meltingly scrumptious chocolate cookies in the microwave and go from zero to baking hero in minutes, with these delectable Chocolate Chip Cookie mixes from Baked In.

Incredibly easy to make, just put a spoonful of butter in a mug and melt in the microwave, add a splash of milk and one of the portions of mix, then microwave for 45 seconds to transform into a gooey chocolate chip cookie. Delicious!

This set includes 3 individual portions in reusable plastic pots and full instructions.

3 x 60g portions. , (205p per 100g.)

Delivery

UK Mainland
Standard Delivery
3-5 Working Days
Express Delivery
Next Day (if ordered before 7pm Monday to Friday. 2 days after 7pm including Weekends/Bank Holidays)*
Sunday Express Delivery
Sunday (if ordered between 6pm Friday and 6pm Saturday)*
Click & Collect
Available at Delivery Page

BFPO & Foreign & Commonwealth Office
Standard Delivery
3-5 Working Days*

Eire (Ireland)
Standard Delivery
7 Working Days*

EU countries
Standard Delivery
7-10 Working Days*

Rest of the world
Standard Delivery
7-10 Working Days*

* Some delivery services may not be available in your area, the delivery page will display the available delivery services during checkout.

Returns

We want you to enjoy shopping at Lakeland with complete confidence, which is why every single product you buy from us comes with a 3 year guarantee – just bring along your receipt or emailed order confirmation as proof of purchase. Plus all returns are free.

To do this, it would be really helpful if you could call one of our friendly Customer Services Advisors on 015394 88100 first, as there are occasions when it may not be necessary for you to be inconvenienced by sending a product back to us.

There are currently no reviews, be the first to write one!

Sign in and write a review

Useful documents

Buy One Get One Half Price

Buy one get one half price mix 'n' match on selected confectionery (lowest priced item half price).