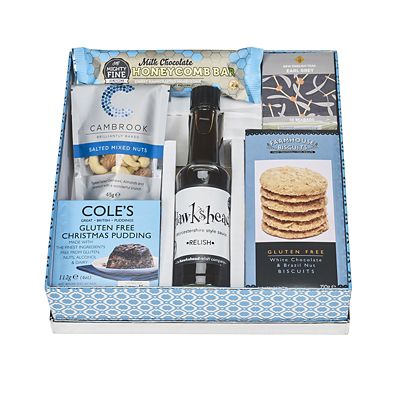 Lakeland Gluten-Free Christmas Food Gift Box
Lakeland Gluten-Free Christmas Food Gift Box
Product number: 60917
You can't put a price on peace of mind
All products include our 3 year guarantee so you can shop with confidence
---
Product Features
Indulgent Christmas hamper
Full of gluten-free treats
Presented in a gift box
Great gift for anyone who can't eat gluten
Certified gluten-free and vegetarian
Guaranteed freshness into 2018
3 year guarantee included
Product Features
Indulgent Christmas hamper
Full of gluten-free treats
Presented in a gift box
Great gift for anyone who can't eat gluten
Certified gluten-free and vegetarian
Guaranteed freshness into 2018
Lakeland Gluten-Free Christmas Food Gift Box

Nestled in this Gluten-free hamper gift box is a scrumptious selection of our very favourite treats… which just so happen to be gluten-free.

Chosen for their exquisite flavours, the contents include a rich Christmas pudding from Cole's, deliciously chunky cookies and milk chocolate honeycomb to satisfy the sweetest tooth. Alongside those are salted nuts for nibbly moments and a figgy pudding chutney that'll give cold cuts and cheese a suitably festive tang. And they'll need a good cup of tea after all of those goodies, so we've taken care of that too.

With all these yummy morsels, it's a thoughtful gift for anyone who appreciates good food – and a proper treat for those on a gluten-free diet.

Cole's Gluten-Free Christmas Pudding (112g) – We're not sure how the good folk at Cole's have done it, but they've managed to create a traditional-style, fruit-packed pud that's free of gluten, nuts, alcohol and dairy… and that still tastes absolutely delicious!

Claire's Handmade Figgy Pudding Chutney with Armagnac (200g) – Dark, rich and luxurious, this chutney is festive throughout with onions, juicy raisins and a good splash of Armagnac. Great with cold cuts – turkey sandwiches on Boxing Day, anyone? – and perfectly suited to the after-dinner cheeseboard.

Prewett's Rich Quadruple Chocolate Cookies (150g) – Buttery cookies crammed with milk, dark and white chocolate chunks – and if that wasn't enough, they're then half-coated in Belgian milk chocolate.

Mighty Fine Milk Chocolate Honeycomb Bar (43g) – Light, crisp and made with real honey, and enrobed in deliciously creamy Belgian milk chocolate.

Cambrook Baked & Salted Mixed Nuts (45g) – Requested by a top London hotel, this mix of cashews, almonds and hazelnuts is packed with flavour with a salty hit.

New English Teas Earl Grey Tea (10 bags) – A traditional tea, delicately flavoured with bergamot.

About Lakeland's Hand-picked Hampers

We know that every gift you give is important, and we want to make giving a luxurious, indulgent hamper a really easy choice. Our buyer Rebecca and her team seek out the finest fare from all across the country and spend months tasting and testing hundreds of gorgeous goodies before whittling their choices down to the very best chocolates, finest cakes and biscuits and the most delectable preserves, so each of our hampers is an exquisite selection that anyone would be truly happy to give – or receive. We can even gift-wrap many of them and deliver them for you, so all you have to do is choose which one they'd like best. And once you've taken care of everyone else's presents, maybe you'll treat yourself too?

Suitable for vegetarians
Gluten free

Delivery

UK Mainland
Standard Delivery
3-5 Working Days
Express Delivery
Next Day (if ordered before 7pm Monday to Friday. 2 days after 7pm including Weekends/Bank Holidays)*
Sunday Express Delivery
Sunday (if ordered between 6pm Friday and 6pm Saturday)*
Click & Collect
Available at Delivery Page

BFPO & Foreign & Commonwealth Office
Standard Delivery
3-5 Working Days*

Eire (Ireland)
Standard Delivery
7 Working Days*

EU countries
Standard Delivery
7-10 Working Days*

Rest of the world
Standard Delivery
7-10 Working Days*

* Some delivery services may not be available in your area, the delivery page will display the available delivery services during checkout.

Returns

We want you to enjoy shopping at Lakeland with complete confidence, which is why every single product you buy from us comes with a 3 year guarantee – just bring along your receipt or emailed order confirmation as proof of purchase. Plus all returns are free.

To do this, it would be really helpful if you could call one of our friendly Customer Services Advisors on 015394 88100 first, as there are occasions when it may not be necessary for you to be inconvenienced by sending a product back to us.

There are currently no reviews, be the first to write one!

Sign in and write a review

Useful documents

Gift Wrap & Nominated Delivery Available

Gift Wrap Services

Gift wrap is available on selected hampers which includes a complimentary gift card with a personalised message of your choice. We will carefully wrap your hamper by hand and add the personalised gift card with your message simply choose gift wrap services at checkout. Prices start from £4.50 with prices varying for larger hampers.

For guaranteed Christmas delivery gift-wrapped items can be ordered up until midnight on Tuesday 19th December for UK addresses.

Nominated Delivery Dates

We can despatch your hamper on a nominated day, please call our customer services team on 015394 88100 to place the order. This excludes fresh hamper such as Hays Hampers which will be despatched around the 19th of December for Christmas delivery.

Choose your Delivery Address

Hampers can be delivered directly to an address of your choice. Our usual postage charges apply for each individual delivery address, there is no extra cost for the service. Most hampers (including gift wrap items) can be sent to your local store via Click & Collect to be picked up at your convenience. If you call our customer services team on 015394 88100 to place the order they can also create a personalised note for the recipient.

Freshness

We only stock Christmas hampers with dates well in to the New Year for guaranteed freshness so you can buy now in the knowledge your hamper will be fresh for Christmas.