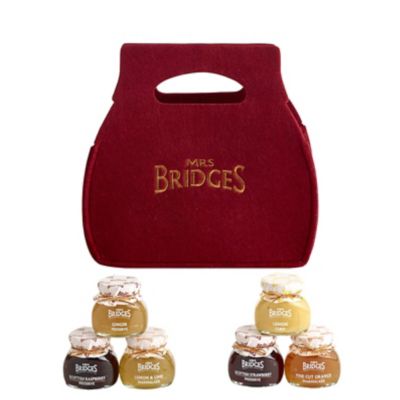 Mrs Bridges Breakfast Collection Felt Bag
Mrs Bridges Breakfast Collection Felt Bag
Product number: 60896
You can't put a price on peace of mind
All products include our 3 year guarantee so you can shop with confidence
---
Product Features
Felt hamper filled with delicious treats
Make the most of breakfast tea
Ideal for gifting
Gift-wrapping available
Suitable for vegetarians
Guaranteed freshness into 2018
Product Features
Felt hamper filled with delicious treats
Make the most of breakfast tea
Ideal for gifting
Gift-wrapping available
Suitable for vegetarians
Guaranteed freshness into 2018
Frequently bought together
Mrs Bridges Breakfast Collection Felt Bag

Quite the thing to make afternoon tea just that little bit more special, this lovely selection of Mrs Bridges Breakfast Collection Felt Bag sweet treats is packed with half a dozen jars of zesty, sweet and fruity preserves sure to make the most of toast, add magic to muffins, complement crumpets and make scones even more scrumptious!

Ideal for a birthday or Christmas gift, this collection comes wrapped in a lovely felted bag that gives this lovely sweet food hamper instant standout appeal. Wonderfully different from the usual foodie gift packaging, it's sturdily made with two large carry handles and features a hook and loop tab to keep the yummy contents safely contained. Speaking of which…

Fine Cut Orange Marmalade (113g) – Based on their traditional marmalade recipe with finely sliced orange zest for a better class of breakfast.

Lemon & Lime Marmalade (113g) – A beautifully balanced double act, full of citrusy zest and zing.

Lemon Curd (113g) – A wonderfully fresh-tasting curd that encapsulates summer in a jar.

Scottish Raspberry Preserve (113g) – The best of succulent Scottish raspberries come together in one of their traditional recipes that we think is hard to beat.

Ginger Preserve (113g) – Bursting with flavour, this is a delight both on toast and used in cooking.

Scottish Strawberry Preserve (113g) – One of Mrs Bridges' absolute classics, packed with the traditional flavour of fine Scottish strawberries.

About Mrs Bridges Hampers

There's something extra special about a Mrs Bridges hamper, even the mini ones. Maybe it's the deluxe array of fine foods from bite-sized sweet treats and tangy chutneys to fruity preserves galore, or the fact that every item is made to an original recipe, or the time they take to hand-wrap everything for perfect presentation… or maybe it's all these things combined that makes them such wonderful gifts. You're sure to find something for everyone, whether it's a little treat for a foodie fan or a whole shopping bag full of goodies. We're really not surprised that the Mrs Bridges range has been a long-time favourite of our customers – each one is a gift just waiting to make someone's day.

Suitable for vegetarians
Suitable for vegans
Gluten free

Delivery

UK Mainland
Standard Delivery
3-5 Working Days
Express Delivery
Next Day (if ordered before 7pm Monday to Friday. 2 days after 7pm including Weekends/Bank Holidays)*
Sunday Express Delivery
Sunday (if ordered between 6pm Friday and 6pm Saturday)*
Click & Collect
Available at Delivery Page

BFPO & Foreign & Commonwealth Office
Standard Delivery
3-5 Working Days*

Eire (Ireland)
Standard Delivery
7 Working Days*

EU countries
Standard Delivery
7-10 Working Days*

Rest of the world
Standard Delivery
7-10 Working Days*

* Some delivery services may not be available in your area, the delivery page will display the available delivery services during checkout.

Returns

We want you to enjoy shopping at Lakeland with complete confidence, which is why every single product you buy from us comes with a 3 year guarantee – just bring along your receipt or emailed order confirmation as proof of purchase. Plus all returns are free.

To do this, it would be really helpful if you could call one of our friendly Customer Services Advisors on 015394 88100 first, as there are occasions when it may not be necessary for you to be inconvenienced by sending a product back to us.

There are currently no reviews, be the first to write one!

Sign in and write a review

Useful documents

Gift Wrap & Nominated Delivery Available

Gift Wrap Services

Gift wrap is available on selected hampers which includes a complimentary gift card with a personalised message of your choice. We will carefully wrap your hamper by hand and add the personalised gift card with your message simply choose gift wrap services at checkout. Prices start from £4.50 with prices varying for larger hampers.

For guaranteed Christmas delivery gift-wrapped items can be ordered up until midnight on Tuesday 19th December for UK addresses.

Nominated Delivery Dates

We can despatch your hamper on a nominated day, please call our customer services team on 015394 88100 to place the order. This excludes fresh hamper such as Hays Hampers which will be despatched around the 19th of December for Christmas delivery.

Choose your Delivery Address

Hampers can be delivered directly to an address of your choice. Our usual postage charges apply for each individual delivery address, there is no extra cost for the service. Most hampers (including gift wrap items) can be sent to your local store via Click & Collect to be picked up at your convenience. If you call our customer services team on 015394 88100 to place the order they can also create a personalised note for the recipient.

Freshness

We only stock Christmas hampers with dates well in to the New Year for guaranteed freshness so you can buy now in the knowledge your hamper will be fresh for Christmas.