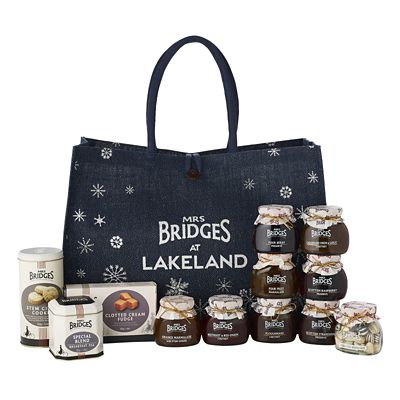 Mrs Bridges Ultimate Christmas Hamper
Mrs Bridges Ultimate Christmas Hamper
Product number: 60894
You can't put a price on peace of mind
All products include our 3 year guarantee so you can shop with confidence
---
Product Features
Premium selection of Mrs Bridges products
Includes preserves, chutneys, cookies and fudge
Presented in a reusable jute shopper
Suitable for vegetarians
Guaranteed freshness into 2018
Quick! Last chance to buy

Free UK delivery & returns
3 year guarantee included
Product Features
Premium selection of Mrs Bridges products
Includes preserves, chutneys, cookies and fudge
Presented in a reusable jute shopper
Suitable for vegetarians
Guaranteed freshness into 2018
Frequently bought together
Mrs Bridges Ultimate Christmas Hamper

It takes a pretty special selection to earn the coveted title of 'Mrs Bridges Ultimate Hamper', but once you taste the hand-picked items in this collection you're sure to agree that it really does deserve this accolade. Ideal for gifting and beautifully presented in a reusable jute shopping bag, whether it's a fruit-filled spread for your toast, a tangy chutney with a difference, or a sweet treat and a much-needed cup of tea, you'll find something to whet your appetite and make you glad you chose Mrs. Bridges' best food hamper yet.

Scottish Raspberry Preserve (250g) – The best of succulent Scottish raspberries come together in one of their traditional recipes that we think is hard to beat.

Scottish Strawberry Preserve (250g) – One of Mrs Bridges' absolute classics, packed with the traditional flavour of fine Scottish strawberries.

Four Berry Preserve (250g) – Strawberries, raspberries, blackcurrants and redcurrants combine in a 'berry' delicious preserve that captures summer in the jar.

Four Fruit Marmalade (250g) – Why choose just one? Enjoy the taste of orange, lemon, grapefruit and lime packed into one tangy jar.

Orange Marmalade with Stem Ginger (250g) – Classic orange marmalade, warmed up with the sweet and fiery heat of ginger.

Caramelised Onion & Garlic Chutney (220g) – Sure to please with cheese, it's perfect for ploughman's lunches and delicious with grilled veg like aubergines.

Beetroot & Orange Chutney (230g) – Here's a flavour combination sure to delight – earthily sweet beets meet zingy, zesty orange.

Ploughman's Chutney (230g) – A very British chutney! Pair with cheddar on crusty white bread for the ultimate hearty sandwich.

Assorted Humbugs (150g) – Traditional hard-boiled mints just like the ones from old-fashioned sweet shops, golden or striped with a chewy centre.

Stem Ginger Cookies (160g) – Warm yourself up with a nice cuppa and a stem ginger-studded cookie or three.

Clotted Cream Fudge (170g) – Creamy fudge pieces made by hand to Mrs Bridges' special recipe – a favourite of theirs, and of ours too!

Breakfast Tea (15 bags) – The perfect blend for a breakfast brew, presented in a lovely caddy.

About Mrs Bridges Hampers

There's something extra special about a Mrs Bridges hamper, even the mini ones. Maybe it's the deluxe array of fine foods from bite-sized sweet treats and tangy chutneys to fruity preserves galore, or the fact that every item is made to an original recipe, or the time they take to hand-wrap everything for perfect presentation… or maybe it's all these things combined that makes them such wonderful gifts. You're sure to find something for everyone, whether it's a little treat for a foodie fan or a whole shopping bag full of goodies. We're really not surprised that the Mrs Bridges range has been a long-time favourite of our customers – each one is a gift just waiting to make someone's day.

Delivery

UK Mainland
Standard Delivery
3-5 Working Days
Express Delivery
Next Day (if ordered before 7pm Monday to Friday. 2 days after 7pm including Weekends/Bank Holidays)*
Sunday Express Delivery
Sunday (if ordered between 6pm Friday and 6pm Saturday)*
Click & Collect
Available at Delivery Page

BFPO & Foreign & Commonwealth Office
Standard Delivery
3-5 Working Days*

Eire (Ireland)
Standard Delivery
7 Working Days*

EU countries
Standard Delivery
7-10 Working Days*

Rest of the world
Standard Delivery
7-10 Working Days*

* Some delivery services may not be available in your area, the delivery page will display the available delivery services during checkout.

Returns

We want you to enjoy shopping at Lakeland with complete confidence, which is why every single product you buy from us comes with a 3 year guarantee – just bring along your receipt or emailed order confirmation as proof of purchase. Plus all returns are free.

To do this, it would be really helpful if you could call one of our friendly Customer Services Advisors on 015394 88100 first, as there are occasions when it may not be necessary for you to be inconvenienced by sending a product back to us.

There are currently no reviews, be the first to write one!

Sign in and write a review

Useful documents

Gift Wrap & Nominated Delivery Available

Gift Wrap Services

Gift wrap is available on selected hampers which includes a complimentary gift card with a personalised message of your choice. We will carefully wrap your hamper by hand and add the personalised gift card with your message simply choose gift wrap services at checkout. Prices start from £4.50 with prices varying for larger hampers.

For guaranteed Christmas delivery gift-wrapped items can be ordered up until midnight on Tuesday 19th December for UK addresses.

Nominated Delivery Dates

We can despatch your hamper on a nominated day, please call our customer services team on 015394 88100 to place the order. This excludes fresh hamper such as Hays Hampers which will be despatched around the 19th of December for Christmas delivery.

Choose your Delivery Address

Hampers can be delivered directly to an address of your choice. Our usual postage charges apply for each individual delivery address, there is no extra cost for the service. Most hampers (including gift wrap items) can be sent to your local store via Click & Collect to be picked up at your convenience. If you call our customer services team on 015394 88100 to place the order they can also create a personalised note for the recipient.

Freshness

We only stock Christmas hampers with dates well in to the New Year for guaranteed freshness so you can buy now in the knowledge your hamper will be fresh for Christmas.