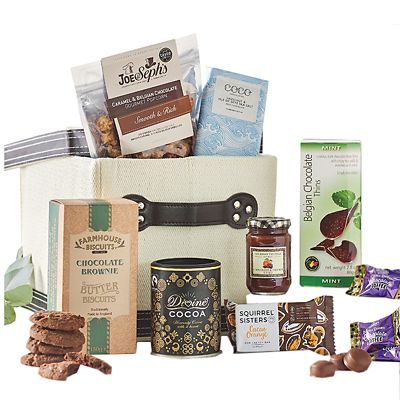 Lakeland Chocoholics Christmas Hamper
Lakeland Chocoholics Christmas Hamper
Product number: 60715
You can't put a price on peace of mind
All products include our 3 year guarantee so you can shop with confidence
---
Product Features
A chocolate lover's dream gift
Packed full of chocolatey treats
Comes in an attractive wooden box
Reusable with heart handle detail
Suitable for vegetarians
Guaranteed freshness into 2018
In Stock

Free UK delivery & returns
Product Features
A chocolate lover's dream gift
Packed full of chocolatey treats
Comes in an attractive wooden box
Reusable with heart handle detail
Suitable for vegetarians
Guaranteed freshness into 2018
Frequently bought together
Lakeland Chocoholics Christmas Hamper

Everyone likes to get a food hamper for Christmas but this one's a little bit special, particularly if you know someone who's partial to chocolate. Beautifully presented in a rustic-style wooden box with lovely heart-shaped handle detail, the Chocoholics Christmas Hamper is crammed full of a chocotastic collection of treats. Salted caramel truffles, chocolate fudge, chocolate popcorn, chocolate curd… they won't know where to start!

Divine Fairtrade Cocoa Powder (125g) – Mix with hot milk for a divinely sumptuous before-bed beverage, or use as an ingredient in deliciously gooey chocolate cake.

Farmhouse Biscuits Red Velvet Crunch Butter Biscuits (150g) – Traditionally made in England, rich and studded with white chocolate chunks.

Thomas & Grace Salted Caramel Truffles (130g) – Handcrafted in the UK by expert chocolatiers using only the finest ingredients, these very special milk chocolate truffles hold a sweet and creamy caramel centre, finished off with a touch of Anglesey sea salt (PDO).

Joe & Seph's Double Chocolate Popcorn (32g) – Joe & Seph understand that one kind of chocolate sometimes isn't enough, so they've infused smooth caramel with a blend of the finest Belgian milk and dark chocolate for a decadent double chocolate treat.

Gnaw Salted Caramel Milk Chocolate Bar (50g) – Tickle your taste buds with Gnaw's salted caramel chocolate, lovingly handcrafted in Gnawfolk.

Thursday Cottage Chocolate & Orange Flavour Curd (110g) – One of our favourite flavour combinations, this smooth and creamy chocolate curd with a subtle hint of orange is a gold star Great Taste Award-winner.

Piselli Mini Pandoro with Chocolate Cream Filling (100g) – Soft, golden, Italian sweet yeast bread, traditionally served at Christmas, this version is perfect for chocoholics with layers of chocolate cream inside.

Romney's Handmade Death by Chocolate Butter Fudge (150g) – Best known for their Everest-topping Kendal mint cake, local-to-Lakeland Romney's also make delicious fudge in all kinds of flavours. Made in small batches and stirred in traditional copper pans, the rich creamy taste and crumbly texture make this completely chocolatey one completely irresistible.

About Lakeland's Hand-picked Hampers

We know that every gift you give is important, and we want to make giving a luxurious, indulgent hamper a really easy choice. Our buyer Rebecca and her team seek out the finest fare from all across the country and spend months tasting and testing hundreds of gorgeous goodies before whittling their choices down to the very best chocolates, finest cakes and biscuits and the most delectable preserves, so each of our hampers is an exquisite selection that anyone would be truly happy to give – or receive. We can even gift-wrap many of them and deliver them for you, so all you have to do is choose which one they'd like best. And once you've taken care of everyone else's presents, maybe you'll treat yourself too?

Delivery

UK Mainland
Standard Delivery
3-5 Working Days
Express Delivery
Next Day (if ordered before 7pm Monday to Friday. 2 days after 7pm including Weekends/Bank Holidays)*
Sunday Express Delivery
Sunday (if ordered between 6pm Friday and 6pm Saturday)*
Click & Collect
Available at Delivery Page

BFPO & Foreign & Commonwealth Office
Standard Delivery
3-5 Working Days*

Eire (Ireland)
Standard Delivery
7 Working Days*

EU countries
Standard Delivery
7-10 Working Days*

Rest of the world
Standard Delivery
7-10 Working Days*

* Some delivery services may not be available in your area, the delivery page will display the available delivery services during checkout.

Returns

We want you to enjoy shopping at Lakeland with complete confidence, which is why every single product you buy from us comes with a 3 year guarantee – just bring along your receipt or emailed order confirmation as proof of purchase. Plus all returns are free.

To do this, it would be really helpful if you could call one of our friendly Customer Services Advisors on 015394 88100 first, as there are occasions when it may not be necessary for you to be inconvenienced by sending a product back to us.

There are currently no reviews, be the first to write one!

Sign in and write a review

Useful documents

Gift Wrap & Nominated Delivery Available

Gift Wrap Services

Gift wrap is available on selected hampers which includes a complimentary gift card with a personalised message of your choice. We will carefully wrap your hamper by hand and add the personalised gift card with your message simply choose gift wrap services at checkout. Prices start from £4.50 with prices varying for larger hampers.

For guaranteed Christmas delivery gift-wrapped items can be ordered up until midnight on Tuesday 19th December for UK addresses.

Nominated Delivery Dates

We can despatch your hamper on a nominated day, please call our customer services team on 015394 88100 to place the order. This excludes fresh hamper such as Hays Hampers which will be despatched around the 19th of December for Christmas delivery.

Choose your Delivery Address

Hampers can be delivered directly to an address of your choice. Our usual postage charges apply for each individual delivery address, there is no extra cost for the service. Most hampers (including gift wrap items) can be sent to your local store via Click & Collect to be picked up at your convenience. If you call our customer services team on 015394 88100 to place the order they can also create a personalised note for the recipient.

Freshness

We only stock Christmas hampers with dates well in to the New Year for guaranteed freshness so you can buy now in the knowledge your hamper will be fresh for Christmas.