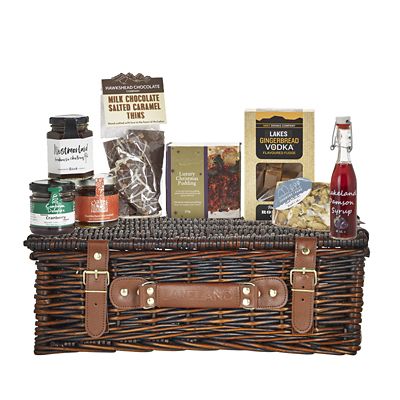 Lakeland Buttermere Christmas Hamper
Lakeland Buttermere Christmas Hamper
Product number: 60618
You can't put a price on peace of mind
All products include our 3 year guarantee so you can shop with confidence
---
Product Features
Sweet and savoury treats from the Lake District
Packed into a reusable wicker basket
Makes an indulgent gift
Suitable for vegetarians
Guaranteed freshness into 2018
Quick! Last chance to buy

Free UK delivery & returns
Product Features
Sweet and savoury treats from the Lake District
Packed into a reusable wicker basket
Makes an indulgent gift
Suitable for vegetarians
Guaranteed freshness into 2018
Frequently bought together
Lakeland Buttermere Christmas Hamper

A Christmas hamper that's close to our hearts because all the deliciously tempting treats inside are sourced from producers based right here in beautiful Cumbria. Enjoy chomping through the region and afterwards you'll still have a lovely wicker basket to reuse for picnics and days out. Dark brown willow basket with leatherette handles and straps.

The Buttermere Hamper Contains:

Cumbrian Delights Cumberland Christmas Sauce with Port (105g) – A rich, fruity and seasonal Lakeland accompaniment with bursts of redcurrant, orange, lemon, port enhanced by a little mustard and ginger. The perfect companion to cheese, cold meats, hot gammon and pâté. (Suitable for vegans.)

The name says it all… Based in the quaint village of Staveley, just a hop and a skip from Windermere, Cumbrian Delights preserves, chutneys and sauces are handmade, resulting in a range that showcases the very best food fare the Lake District has to offer. From twists on traditional classics to some seriously original taste combinations, Cumbrian Delights have a product for every occasion, be it the perfect condiment for a roast dinner, something for scones at afternoon tea time or a little extra to lift breakfast or pudding into a new sphere of scrumptiousness. Deliciously natural means naturally delicious.

Farraday's Tasty Cumberland Pickle (100g) – Rich and punchy, this veg-packed pickle is fantastic with everything on a buffet table or cheeseboard.

David Farraday, a chef who ran a popular restaurant in Bowness-on-Windermere in the Lake District for over two decades, has always loved creating food with a twist, taking his inspiration from around the world. Now supplying discerning delis all over the UK with olives, relishes, mayonnaise and chutneys, Farraday's Tasty prides itself on using only the best quality ingredients and suppliers.

Spiced Fruit Punch Cordial (330ml) – A fruity combination of elderberries, cherries, blackberries, apples and mixed spices to give it a tasty little kick, this Fruit Punch Cordial is equally delicious served hot or cold. (Suitable for vegans.)

Romney's Treacle Toffee (180g) – This darkly sweet treat is still made in copper pans in the same way as described in the original family recipe that's now more than 60 years old.

Named after the 18th century Cumbrian painter, George Romney, sweet manufacturers Romneys have been based in Kendal for almost 100 years. Perhaps best known for supplying mint cake to Everest and Antarctic expeditions, their delicious confections, handmade in copper pans, are always mouth-wateringly good.

Wiper's Chocolate Mint Cake (113g) – Classic Kendal Mint Cake, coated with smooth dark Belgian chocolate for extra enjoyment, an elegantly Cumbrian way to finish a meal alongside a cup of coffee.

Wiper's Mint Cake – Sadly no longer well known, even in Cumbria, the Wipers are believed to be the founding fathers of Kendal Mint Cake production in the 'Old Grey Town'. Now owned by their former competitor Romney's, this rare and special Mint Cake is still made to its original recipe – with less glucose than other varieties, so it has a slightly crumbly texture.

Sticky Toffee Pudding Fudge (170g) – Rich, creamy fudge infused with the truly Cumbrian taste of Sticky Toffee Pudding.

Claire's Thick Cut Cumberland Marmalade (130g) – Thick cut and made from the finest oranges, this dark marmalade is scrumptious when spread on your breakfast toast. (Suitable for vegans.)

Working in the heart of the north Cumbrian countryside, near the market town of Wigton, Claire's Handmade are passionate about making preserves that are as good as if they were made in your own kitchen. They have only three rules – no artificial flavours, no artificial colours, no artificial preservatives – and the results speak for themselves!

Ultimate Shortbread Biscuits (210g) – Ideal for a mid-afternoon snack along with your favourite brew, these buttery shortbread biscuits have been made in Kendal by our friends at the Ultimate Food Company.

Ultimate Plum Pudding (454g) – For decades these Christmas puddings have carried the Lakeland seal of approval. Winners of Great Taste Awards, the puds are made to traditional Cumbrian recipes to be sure of achieving the best results. Packed full of luxury fruit and nuts and preserved with sherry and French brandy, the fruit is steeped for as long as it takes to ensure the rich flavours last and, finally, the puddings are matured on site. They can't be rushed… If the puddings aren't perfectly ready, they stay put until the time is right.

Delivery

UK Mainland
Standard Delivery
3-5 Working Days
Express Delivery
Next Day (if ordered before 7pm Monday to Friday. 2 days after 7pm including Weekends/Bank Holidays)*
Sunday Express Delivery
Sunday (if ordered between 6pm Friday and 6pm Saturday)*
Click & Collect
Available at Delivery Page

BFPO & Foreign & Commonwealth Office
Standard Delivery
3-5 Working Days*

Eire (Ireland)
Standard Delivery
7 Working Days*

EU countries
Standard Delivery
7-10 Working Days*

Rest of the world
Standard Delivery
7-10 Working Days*

* Some delivery services may not be available in your area, the delivery page will display the available delivery services during checkout.

Returns

We want you to enjoy shopping at Lakeland with complete confidence, which is why every single product you buy from us comes with a 3 year guarantee – just bring along your receipt or emailed order confirmation as proof of purchase. Plus all returns are free.

To do this, it would be really helpful if you could call one of our friendly Customer Services Advisors on 015394 88100 first, as there are occasions when it may not be necessary for you to be inconvenienced by sending a product back to us.

There are currently no reviews, be the first to write one!

Sign in and write a review

Useful documents

Gift Wrap & Nominated Delivery Available

Gift Wrap Services

Gift wrap is available on selected hampers which includes a complimentary gift card with a personalised message of your choice. We will carefully wrap your hamper by hand and add the personalised gift card with your message simply choose gift wrap services at checkout. Prices start from £4.50 with prices varying for larger hampers.

For guaranteed Christmas delivery gift-wrapped items can be ordered up until midnight on Tuesday 19th December for UK addresses.

Nominated Delivery Dates

We can despatch your hamper on a nominated day, please call our customer services team on 015394 88100 to place the order. This excludes fresh hamper such as Hays Hampers which will be despatched around the 19th of December for Christmas delivery.

Choose your Delivery Address

Hampers can be delivered directly to an address of your choice. Our usual postage charges apply for each individual delivery address, there is no extra cost for the service. Most hampers (including gift wrap items) can be sent to your local store via Click & Collect to be picked up at your convenience. If you call our customer services team on 015394 88100 to place the order they can also create a personalised note for the recipient.

Freshness

We only stock Christmas hampers with dates well in to the New Year for guaranteed freshness so you can buy now in the knowledge your hamper will be fresh for Christmas.