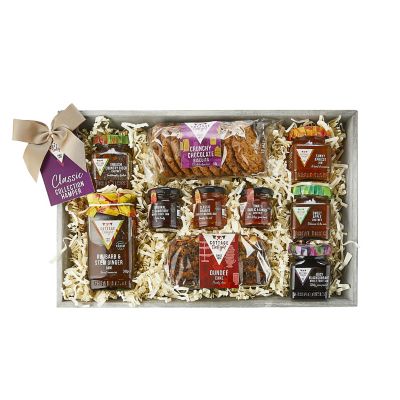 Cottage Delight The Farmhouse Selection Food Hamper
Cottage Delight The Farmhouse Selection Food Hamper
Product number: 60567
You can't put a price on peace of mind
All products include our 3 year guarantee so you can shop with confidence
---
Product Features
Hamper packed with sweet and savoury flavours
Perfect selection of treats for high tea
Presented in a wicker tray
Suitable for vegetarians
Guaranteed freshness into 2018
Product Features
Hamper packed with sweet and savoury flavours
Perfect selection of treats for high tea
Presented in a wicker tray
Suitable for vegetarians
Guaranteed freshness into 2018
Cottage Delight The Farmhouse Selection Food Hamper

Packed full of sweet and savoury farmhouse favourites, this lovely Cottage Delight Farmhouse Hamper is a wicker basket of goodies that will make a delightful birthday or Christmas gift – just add teacakes, scones and maybe a dash of cream for the perfect high tea.

Strawberry Extra Jam (340g) – 2010 Winner of a Great Taste Gold Award, this delicious Strawberry Extra Jam is a unique, fruit-packed recipe that's super-tasty on a slice of breakfast toast and scrumptious served with fresh scones for afternoon tea, even without clotted cream.

Raspberry Extra Jam (40g) – A super-fruity jam made with only the ripest whole raspberries, complete with seeds. A traditional classic, it's a zingy preserve, delicious as a cake filling and in desserts, and at its best on a simple slice of hot buttered toast.

Lemon Cheese (40g) – Handmade to a traditional recipe, with best butter for a truly creamy taste, this decadent sweet spread is delicious on fresh crusty bread or try it as a filling for fruit tarts, lemon meringue pie, cheesecake or steamed lemon sponge.

Orange Marmalade (113g) – a Great Taste Award-winner, Cottage Delight's Orange Marmalade is a rich and fruity marmalade made to a classic recipe using only the finest, juiciest oranges. Perfect for breakfast with hot buttered toast, delicious on crumpets or why not try it as a glaze for roast ham.

Sweet Apple Chutney (105g) – Winner of a coveted Brammy Award, this delicious apple chutney is lightly spiced and rich in texture, made with 30% tangy Bramleys. Delicious with hard cheeses like a traditional Cheddar, it also works well with crumbly cheeses such as Lancashire, Wensleydale and Cheshire. The high apple content means it's an excellent alternative to apple sauce to serve with roast pork or minted lamb and it's ideal as a sticky glaze for ribs and pork chops.

Caramelised Onion Chutney (40g) – One of Cottage Delight's best-selling recipes, Caramelised Onion Chutney is a richly flavoured accompaniment to enjoy with pork pies and cold cuts as well as cheese. Made with 51% onions caramelised with muscovado sugar, balsamic vinegar and a special blend of spices.

Tomato, Garlic & Ginger Chutney (40g) – A twist on the age-old ploughman's favourite of tomato chutney, Cottage Delight have added the richness of garlic and stem ginger, to give this deluxe chutney a luxurious boost of flavour. Containing 37% ripened tomatoes as well as sharp Bramley apples, with sultanas for texture and sweetness, it's delicious beside quiches and cheese as well as cold cuts and pork pies. And it's delightful stirred into a bowlful of pasta or as a glaze for chicken drumsticks.

Old English Chutney with Cider (320g) – 2012 Winner of a Great Taste Gold Award, this old-fashioned chutney is packed full of delicious English fruits and vegetables. Traditionally made in small batches using Bramley apples, green beans, cauliflower, dates, onions and a dash of cider, it's best enjoyed as part of a classic ploughman's platter, or in the perfect cheese and pickle sandwich.

English Toffee Biscuits (175g) – Crunchy, crumbly and filled with sweet little pockets of toffee, these meltingly lovely biccies are the perfect way to polish off a hearty high tea.

Sultana Slab Cake – Rich and fruit-packed, try it smothered in butter or stacked with cheese for a truly indulgent treat.

About Cottage Delight

Renowned for their passion for quality and taste, Cottage Delight have been purveyors of speciality food since 1974, when Nigel Cope first developed a traditional recipe, all-butter tablet fudge in his family kitchen. After instant success at local farmers' markets, he started off on his quest to create foods of the highest standards, searching for inspiration and quality ingredients from both the UK and further afield. Well-deserved recipients of 160 Great Taste awards, they continue to develop and innovate, introducing delicious new products every year while preserving that classic Cottage Delight home-made look and taste.

Delivery

UK Mainland
Standard Delivery
3-5 Working Days
Express Delivery
Next Day (if ordered before 7pm Monday to Friday. 2 days after 7pm including Weekends/Bank Holidays)*
Sunday Express Delivery
Sunday (if ordered between 6pm Friday and 6pm Saturday)*
Click & Collect
Available at Delivery Page

BFPO & Foreign & Commonwealth Office
Standard Delivery
3-5 Working Days*

Eire (Ireland)
Standard Delivery
7 Working Days*

EU countries
Standard Delivery
7-10 Working Days*

Rest of the world
Standard Delivery
7-10 Working Days*

* Some delivery services may not be available in your area, the delivery page will display the available delivery services during checkout.

Returns

We want you to enjoy shopping at Lakeland with complete confidence, which is why every single product you buy from us comes with a 3 year guarantee – just bring along your receipt or emailed order confirmation as proof of purchase. Plus all returns are free.

To do this, it would be really helpful if you could call one of our friendly Customer Services Advisors on 015394 88100 first, as there are occasions when it may not be necessary for you to be inconvenienced by sending a product back to us.

There are currently no reviews, be the first to write one!

Sign in and write a review

Useful documents

Gift Wrap & Nominated Delivery Available

Gift Wrap Services

Gift wrap is available on selected hampers which includes a complimentary gift card with a personalised message of your choice. We will carefully wrap your hamper by hand and add the personalised gift card with your message simply choose gift wrap services at checkout. Prices start from £4.50 with prices varying for larger hampers.

For guaranteed Christmas delivery gift-wrapped items can be ordered up until midnight on Tuesday 19th December for UK addresses.

Nominated Delivery Dates

We can despatch your hamper on a nominated day, please call our customer services team on 015394 88100 to place the order. This excludes fresh hamper such as Hays Hampers which will be despatched around the 19th of December for Christmas delivery.

Choose your Delivery Address

Hampers can be delivered directly to an address of your choice. Our usual postage charges apply for each individual delivery address, there is no extra cost for the service. Most hampers (including gift wrap items) can be sent to your local store via Click & Collect to be picked up at your convenience. If you call our customer services team on 015394 88100 to place the order they can also create a personalised note for the recipient.

Freshness

We only stock Christmas hampers with dates well in to the New Year for guaranteed freshness so you can buy now in the knowledge your hamper will be fresh for Christmas.