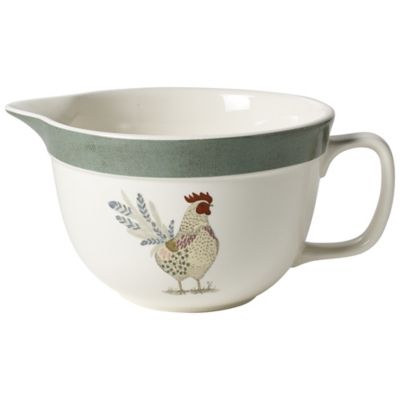 Artisan Hen Batter Jug
Artisan Hen Batter Jug
Product number: 45289
You can't put a price on peace of mind
All products include our 3 year guarantee so you can shop with confidence
---
Product Features
Stoneware batter jug
Pouring spout perfect for pancakes and crêpes
1.5 litre capacity
Dishwasher safe
Part of the Artisan Hen range
3 year guarantee included
Product Features
Stoneware batter jug
Pouring spout perfect for pancakes and crêpes
1.5 litre capacity
Dishwasher safe
Part of the Artisan Hen range
Artisan Hen Batter Jug

Decorated with a proud cockerel, and with a handsome green lip, the Artisan Hen Batter Jug is ideal for whipping up smooth batters for your favourite cakes and bakes.

With a generous 1.5 litre capacity, there is plenty of room for enough batter to feed the whole family, while the inclusion of a large handle and pouring spout mean it is easy to both hold and pour your mixture exactly where you want it, ideal for crêpes and pancakes. When you've finished the jug is even dishwasher safe, for quick and convenient cleaning.

Mixing velvety smooth batters for cakes and pancakes might be its raison d'être, but we think it's crying out to be shown off on a table, loaded with a variety of fresh fruit. It is sure to bring a certain rustic charm to your kitchen.

About the Artisan Hen Range

With a rustic country kitchen charm, this lovely collection features a clutch of hens and cockerels in all their glory. Accented with contrasting duck egg and brick red hues and a subtle herringbone pattern which adds to their vintage feel, these fine fellows will be welcomed into anyone's home.

21.5 x 16.5 x 11cm H. 1.5 litre.

Delivery

UK Mainland
Standard Delivery
3-5 Working Days
Express Delivery
Next Day (if ordered before 7pm Monday to Friday. 2 days after 7pm including Weekends/Bank Holidays)*
Sunday Express Delivery
Sunday (if ordered between 6pm Friday and 6pm Saturday)*
Click & Collect
Available at Delivery Page

BFPO & Foreign & Commonwealth Office
Standard Delivery
3-5 Working Days*

Eire (Ireland)
Standard Delivery
7 Working Days*

EU countries
Standard Delivery
7-10 Working Days*

Rest of the world
Standard Delivery
7-10 Working Days*

* Some delivery services may not be available in your area, the delivery page will display the available delivery services during checkout.

Returns

We want you to enjoy shopping at Lakeland with complete confidence, which is why every single product you buy from us comes with a 3 year guarantee – just bring along your receipt or emailed order confirmation as proof of purchase. Plus all returns are free.

To do this, it would be really helpful if you could call one of our friendly Customer Services Advisors on 015394 88100 first, as there are occasions when it may not be necessary for you to be inconvenienced by sending a product back to us.

There are currently no reviews, be the first to write one!

Sign in and write a review

Buy one, get one HALF PRICE

Buy one, get one HALF PRICE (lower priced item half price).