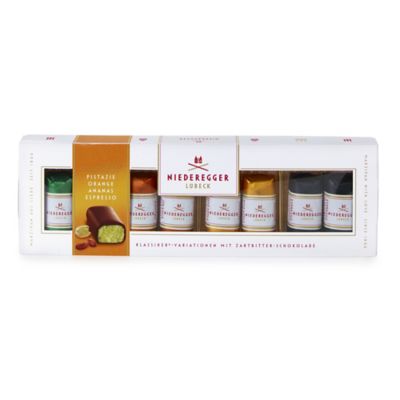 Niederegger Assorted Marzipan Loaves
Niederegger Assorted Marzipan Loaves
Product number: 42486
You can't put a price on peace of mind
All products include our 3 year guarantee so you can shop with confidence
---
Product Features
Delicious bite-sized marzipan loaves
Smothered in thick dark chocolate
Pistachio, orange, pineapple & espresso flavours
Great gift for marzipan lovers
Suitable for vegetarians
Product Features
Delicious bite-sized marzipan loaves
Smothered in thick dark chocolate
Pistachio, orange, pineapple & espresso flavours
Great gift for marzipan lovers
Suitable for vegetarians
Niederegger Assorted Marzipan Loaves

What a treat for someone who loves marzipan! This pack of 8 Assorted Marzipan Loaves from Niederegger are flavoured with pistachio, orange, pineapple and espresso, sure to go down well with any marzipan lover.

Making an ideal birthday or Christmas gift, these delicious loaves are bursting with flavour which is sure to have people reaching for another.

The Niederegger Story

Germany's most famous marzipan factory is in the north in Lübeck, and marzipan is undoubtedly the city's biggest export. Johann Georg Niederegger, an outstanding confectioner, established the business in 1806, and the original, time-honoured recipe has stayed exactly the same since then – a mixture of almonds, sugar and an ingredient similar to rosewater that gives the unique Niederegger taste.

With its high almond content, it's less sweet than many marzipans, keeping the true taste and colour of the finest, aromatic Mediterranean almonds that are used, and only the best, most perfect, golden kernels pass the expert gaze of the eagle-eyed 'checkers' once the almonds have been blanched. Niederegger make 30 tons of this incredible marzipan every day, crushing the chopped nuts with sugar between giant granite rollers, heating the paste in copper cauldrons until it's ready to be cooled, wrapped and rested to develop the fullest potential of the almond aroma. And finally, the secret rosewater-like ingredient is added and the marzipan can be turned into one of over 300 marzipan specialities, from fine pralines to novelty shapes as well as the classic chocolate-coated loaves.

The many delicious varieties of this flavoursome treat are renowned the world over – and adored by Lakeland customers.

100g - 8 loaves., (499p per 100g.)

Delivery

UK Mainland
Standard Delivery
3-5 Working Days
Express Delivery
Next Day (if ordered before 7pm Monday to Friday. 2 days after 7pm including Weekends/Bank Holidays)*
Sunday Express Delivery
Sunday (if ordered between 6pm Friday and 6pm Saturday)*
Click & Collect
Available at Delivery Page

BFPO & Foreign & Commonwealth Office
Standard Delivery
3-5 Working Days*

Eire (Ireland)
Standard Delivery
7 Working Days*

EU countries
Standard Delivery
7-10 Working Days*

Rest of the world
Standard Delivery
7-10 Working Days*

* Some delivery services may not be available in your area, the delivery page will display the available delivery services during checkout.

Returns

We want you to enjoy shopping at Lakeland with complete confidence, which is why every single product you buy from us comes with a 3 year guarantee – just bring along your receipt or emailed order confirmation as proof of purchase. Plus all returns are free.

To do this, it would be really helpful if you could call one of our friendly Customer Services Advisors on 015394 88100 first, as there are occasions when it may not be necessary for you to be inconvenienced by sending a product back to us.

There are currently no reviews, be the first to write one!

Sign in and write a review

Useful documents

Buy 1 get 1 HALF PRICE

Buy one get one half price mix 'n' match on selected confectionery (lowest priced item half price).