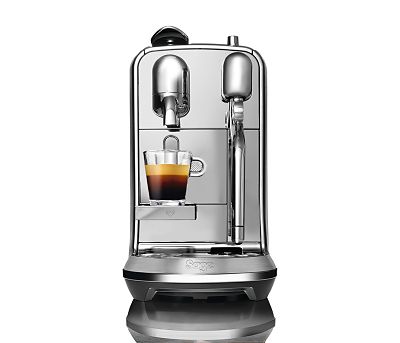 Nespresso Sage The Creatista Plus Coffee Machine BNE800BSSUK
Nespresso Sage The Creatista Plus Coffee Machine BNE800BSSUK
Product number: 31787
You can't put a price on peace of mind
All products include our 3 year guarantee so you can shop with confidence
---
Product Features
Brushed stainless steel coffee machine
Compatible with Nespresso coffee capsules
Heats up in just 3 seconds
Automated steam wand warms and froths milk
19 bar pressure
In Stock

Free UK delivery & returns
Lakeland 3 year guarantee included
Product Features
Brushed stainless steel coffee machine
Compatible with Nespresso coffee capsules
Heats up in just 3 seconds
Automated steam wand warms and froths milk
19 bar pressure
Frequently bought together
Nespresso Sage The Creatista Plus Coffee Machine BNE800BSSUK

This coffee machine is incredibly simple to use, and there are no worries about clearing up messy coffee grounds. The Creatista Pro from Sage by Heston is a Nespresso-compatible coffee machine which delivers the complete barista experience at just the touch of a button. Combining Nespresso's intuitive coffee pod system with Sage's eye for sleek design and usability, the Creatista Pro is simple to use and leaves worktops free of messy coffee grounds. Finished in smart stainless steel, it takes up very little worktop space, and its small footprint ensures it is always on hand to create café-style coffee just when you want it.

Intuitive Controls

Super-simple controls guide you through the Creatista Pro's coffee options so you can choose and personalise every cupful to suit your mood. There's just one dial to help you scroll through the menu on the colourful digital display and a simple push of the Start/Stop button selects your choice. It starts with the classic coffee sizes – ristretto, espresso and lungo – but each can be altered to give you 8 black coffee options to get your day off to a brilliant start.

Fast Heating

Super-fast heating means the Creatista Pro is ready for optimum flavour extraction in as little as 3 seconds, infinitely faster than queuing in a high street coffee shop. Nespresso's 19 bar pressure ensures that every one of the 900 or so coffee aromas are fully released from the pod for your enjoyment absolutely every time.

Automated Steam Wand

With its own custom-made jug for milk frothing under the steam arm, The Creatista Plus will auto froth your milk to one of eight micro-foam texture levels and you have a choice of 11 temperature settings from warm to very hot, so every brew will have the perfect finish whether you've opted for a flat white or latte macchiato. With so many variations to select, we think you'll soon be having a go at intricate designs, just like the artistic baristas in upmarket café bars.

Temperature sensors

To ensure that milk heated in the stainless steel jug will never go past the prescribed temperature, there are temperature sensors built in to the drip tray so you never need to worry about scalded milk affecting the taste and the steam arm auto purges to clean itself once it's returned to the upright position.

Smart Cleaning

The Creatista Pro comes with a water hardness testing strip inside the instruction manual. This helps the machine identify the type of water in your area, and work out the optimum interval time between descale programmes. The Creatista Pro will also turn itself off automatically after 10 minutes to save power. If that's not smart enough, the drip tray will also tell you when it needs emptying.

Includes 14 Nespresso coffee capsules. Cup not included.

Features:

19 bar pressure
Intuitive dial control
Colour digital display
Push-button start/stop
Select from 8 coffee sizes
Choice of milk froth settings
1.5 litre lift-off water tank
Self-purging steam wand
Support tray locks away to suit latte glasses and tall mugs
Drip tray alert tells you when it need emptying
Energy-saving auto shut-off after 10 minutes
Assisted cleaning and descaling prompts

About the Sage Nespresso Creatista Plus Coffee Pod Coffee Machine

Congratulations coffee lovers, Nespresso and Sage have got together and arranged a marriage between Nespresso's easy-to-use coffee pod system and Sage's down-to-earth design skills, to create a coffee making machine that's sure to please anyone who enjoys their coffee to the max. Also available with slightly fewer milk options is the Sage Nespresso Creatista which is champagne-coloured with stainless steel accents.

About the Sage by Heston Blumenthal Range

Engineered by Heston Blumenthal, the ultimate food thinker and experimental chef, and Sage's own engineers, the Sage by Heston Blumenthal range uses cleverly integrated functions to take the stress out of cooking. Their range of smart appliances, which includes kettles, toasters, and blenders, through to their ice cream maker and microwaves, has been exactingly considered to give you perfect results every time, all at the push of a button. Whether its prepping, boiling, whisking, whipping, grilling, cooking and baking, thanks to Heston and Sage, it has never been so easy.

Each appliance is easy to use, with straightforward controls that do all the thinking for you and give precise results every time. Their range of appliances also come with recipes and some tips from Heston, which help you get the most from your tea-maker, coffee machine or bread maker. It's Heston's meticulous perfectionism that's helped make the Sage's range advanced, high-spec appliances that stand head and shoulders above the competition.

17 x 41.5 x 31cm H. 5.5kg. Flex 1m. 1600W.

Delivery

UK Mainland
Standard Delivery
3-5 Working Days
Express Delivery
Next Day (if ordered before 7pm Monday to Friday. 2 days after 7pm including Weekends/Bank Holidays)*
Sunday Express Delivery
Sunday (if ordered between 6pm Friday and 6pm Saturday)*
Click & Collect
Available at Delivery Page

BFPO & Foreign & Commonwealth Office
Standard Delivery
3-5 Working Days*

Eire (Ireland)
Standard Delivery
7 Working Days*

EU countries
Standard Delivery
7-10 Working Days*

Rest of the world
Standard Delivery
7-10 Working Days*

* Some delivery services may not be available in your area, the delivery page will display the available delivery services during checkout.

Returns

We want you to enjoy shopping at Lakeland with complete confidence, which is why every single product you buy from us comes with a 3 year guarantee – just bring along your receipt or emailed order confirmation as proof of purchase. Plus all returns are free.

To do this, it would be really helpful if you could call one of our friendly Customer Services Advisors on 015394 88100 first, as there are occasions when it may not be necessary for you to be inconvenienced by sending a product back to us.

There are currently no reviews, be the first to write one!

Sign in and write a review

Useful documents

Receive Up to £60 Nespresso Club Reward

Buy a Nespresso coffee machine before 31st May 2018 and we will include a leaflet detailing the £40 Club Rewards offer for non-milk and £60 Club Rewards for milk machines.

Full details are available on the leaflet here.