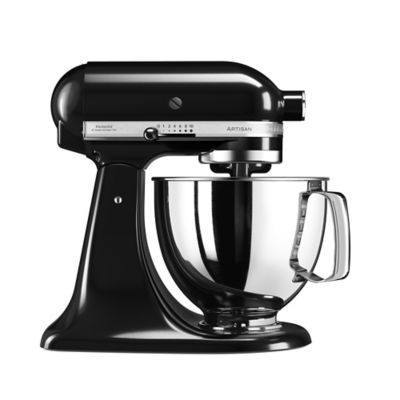 KitchenAid® Artisan® 125 Stand Mixer Onyx Black 5KSM125BOB
KitchenAid® Artisan® 125 Stand Mixer Onyx Black 5KSM125BOB
Product number: 31713
You can't put a price on peace of mind
All products include our 3 year guarantee so you can shop with confidence
---
Product Features
Onyx Black
Patented 'planetary' mixing action
Single attachment hub for ease of use
10 speed direct drive motor
4.8 litre stainless steel bowl with ergonomic handle
In Stock

Free UK delivery & returns
3 year guarantee included
Product Features
Onyx Black
Patented 'planetary' mixing action
Single attachment hub for ease of use
10 speed direct drive motor
4.8 litre stainless steel bowl with ergonomic handle
Frequently bought together
KitchenAid® Artisan® 125 Stand Mixer Onyx Black 5KSM125BOB

A KitchenAid stand mixer comparison chart can be found here.

Keep your colour scheme simple and make a bold statement in your kitchen by opting for this solid Onyx Black KitchenAid Artisan stand mixer. The ideal choice for neutral or monochrome interiors, black is a strong contender for anyone who prefers to keep clutter to a minimum and let a few carefully chosen appliances take the limelight.

About KitchenAid Artisan 125 Stand Mixers

Subtly updated to ensure it remains a design classic, simple embossed logos, retro good looks and smooth, rounded design put KitchenAid's Artisan Stand Mixer on top of many a kitchen 'wish list' and it doesn't just end there. In addition to flawless design credentials, this new version of the brand's best-selling model continues to justify its well-deserved reputation for flawless performance thanks to its reliability, speed and efficiency.

Powerful Mixing

Solidly made from die-cast zinc, its powerful but quiet 10 speed, direct drive motor can handle larger batches and heavier mixing tasks just as easily as lighter, smaller mixing tasks and the patented 'planetary' mixing action means that your ingredients are mixed quickly and thoroughly every time.

Easy to Use

Simple, intuitive controls help make it suitable for novice and accomplished cooks alike, its single attachment hub makes changing attachments very straightforward and it comes with a 4.8 litre stainless steel bowl.

Attachments

This model comes with three attachments – a stainless steel 6 wire whisk with aluminium head for gently folding air into eggs and egg whites, whipping light, fluffy cream and making dips and sauces, an aluminium dough hook with non-stick nylon coating for mixing and kneading the perfect yeast dough for bread, pizza and pasta, and an aluminium Artisan® flat beater with non-stick nylon coating for heavier mixing tasks such as making cakes, frostings or even mashing potatoes – and a wide range of other optional attachments are also available.

Bowl, dough hook and Artisan® flat beater are all dishwasher safe.

5 year manufacturer's warranty.

Flex 145cm. 37 x 24 x 36cm H. 300W.

Delivery

UK Mainland
Standard Delivery
3-5 Working Days
Express Delivery
Next Day (if ordered before 7pm Monday to Friday. 2 days after 7pm including Weekends/Bank Holidays)*
Sunday Express Delivery
Sunday (if ordered between 6pm Friday and 6pm Saturday)*
Click & Collect
Available at Delivery Page

BFPO & Foreign & Commonwealth Office
Standard Delivery
3-5 Working Days*

Eire (Ireland)
Standard Delivery
7 Working Days*

EU countries
Standard Delivery
7-10 Working Days*

Rest of the world
Standard Delivery
7-10 Working Days*

* Some delivery services may not be available in your area, the delivery page will display the available delivery services during checkout.

Returns

We want you to enjoy shopping at Lakeland with complete confidence, which is why every single product you buy from us comes with a 3 year guarantee – just bring along your receipt or emailed order confirmation as proof of purchase. Plus all returns are free.

To do this, it would be really helpful if you could call one of our friendly Customer Services Advisors on 015394 88100 first, as there are occasions when it may not be necessary for you to be inconvenienced by sending a product back to us.

There are currently no reviews, be the first to write one!

Sign in and write a review

Useful documents

FREE GLASS BOWL WORTH £85

Buy this model between 21st August and 1st October 2017 and you will qualify for the KitchenAid Free Glass Bowl promotion. Claim your free bowl online at www.kitchenaidredemptions.co.uk.

The closing date for redemption is October 16th 2017.