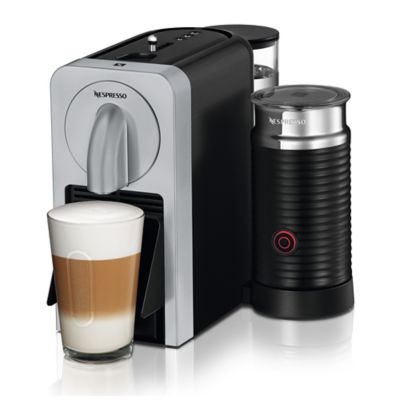 Magimix Nespresso® Prodigio & Milk Silver 11376
Magimix Nespresso® Prodigio & Milk Silver 11376
Product number: 31616
You can't put a price on peace of mind
All products include our 3 year guarantee so you can shop with confidence
---
Product Features
App-connected Nespresso coffee machine
Includes Nespresso Aeroccino3 milk frother
Easily programmable for custom cup sizes
Compact design to fit any kitchen
Includes 16 Nespresso capsules
In Stock

Free UK delivery & returns
3 year guarantee included
Product Features
App-connected Nespresso coffee machine
Includes Nespresso Aeroccino3 milk frother
Easily programmable for custom cup sizes
Compact design to fit any kitchen
Includes 16 Nespresso capsules
Frequently bought together
Magimix Nespresso® Prodigio & Milk Silver 11376

With the ability to brew coffee from your phone, as well as receiving alerts when you need to top the water tank up or order some more capsules, the Prodigo and Milk Silver Nespresso coffee machine is a truly intelligent addition to your kitchen. And, with the included Aeroccino3 milk frother, you can quickly and easily make those frothy lattes and cappuccinos to impress your friends, and save you the time of going round to the café.

Connected App

The Prodigo and Milk coffee machine is Nespresso's first connected machine, and once you've got the app, brewing coffee and maintaining your machine from your phone really couldn't be easier. For an instant fix you can ask it to brew right now or schedule brew times to suit your daily routine and wake up to the aroma of freshly made coffee.

Aeroccino3 Milk Frother

The Prodigo Silver and Milk comes with Nespresso's incredible Aeroccino3 milk frother. Attached to the base for convenience, it creates hot or cold frothed milk, as well as hot unfrothed milk, letting you personalise drinks to suit your mood. The ceramic non-stick also coating makes it super-simple to clean.

Easily Customisable

This coffee machine has three pre-set cup sizes, giving you a choice of brew from ristretto, espresso or lungo. However using the innovative app you can adjust the cup size to suit your favourite mug or glass. As you'd expect from Magimix there's more to this machine than functionality, also boasting compact good looks and thanks to its movable water tank it's easy to fit it into any size of kitchen.

Consistent Results

Using Nespresso's innovative coffee capsule system, not only is your Prodigo easy to use, it delivers great tasting coffee every time. With powerful 19-bar pressure, and a Thermoblock heating system quickly heating your water to the optimum temperature for brewing, you get a perfect crema-topped espresso at the touch of a button.

Easy Care

The app will manage your capsule stocks and send you alerts when it's time to reorder. It will even help you look after your machine by reminding you when it's time for descaling. For easy cleaning, the water tank, capsule container and drip tray are all dishwasher safe.

Features

19 bar pressure
Thermoblock instant water heating system
Includes Nespresso Aeroccino3 milk frother
Power-saving shut-down after 9 minutes
Empty water tank detection
Comes with a tasting box of 16 Nespresso capsules
Bluetooth Connected

About Magimix

Established in 1963 in the Burgundy region of France, a region famed for its gastronomy, Magimix combine the latest technology with traditional cooking techniques to design small electrical appliances that make life easier for even the most serious chefs. Having originally specialised in gadgets to help make food prep as easy as possible, their range of products now includes everything from coffee machines to blenders.

800ml. 37.5 x 22 x 25.5cm H. Flex 95cm. 1700W

Delivery

UK Mainland
Standard Delivery
3-5 Working Days
Express Delivery
Next Day (if ordered before 7pm Monday to Friday. 2 days after 7pm including Weekends/Bank Holidays)*
Sunday Express Delivery
Sunday (if ordered between 6pm Friday and 6pm Saturday)*
Click & Collect
Available at Delivery Page

BFPO & Foreign & Commonwealth Office
Standard Delivery
3-5 Working Days*

Eire (Ireland)
Standard Delivery
7 Working Days*

EU countries
Standard Delivery
7-10 Working Days*

Rest of the world
Standard Delivery
7-10 Working Days*

* Some delivery services may not be available in your area, the delivery page will display the available delivery services during checkout.

Returns

We want you to enjoy shopping at Lakeland with complete confidence, which is why every single product you buy from us comes with a 3 year guarantee – just bring along your receipt or emailed order confirmation as proof of purchase. Plus all returns are free.

To do this, it would be really helpful if you could call one of our friendly Customer Services Advisors on 015394 88100 first, as there are occasions when it may not be necessary for you to be inconvenienced by sending a product back to us.

There are currently no reviews, be the first to write one!

Sign in and write a review

Receive Up to £75 Nespresso Club Reward

Buy a Nespresso coffee machine before 31st January 2018 and we will include a leaflet detailing the £45 Club Rewards offer for non-milk and £75 Club Rewards for milk machines.

Full details are available on the leaflet here.