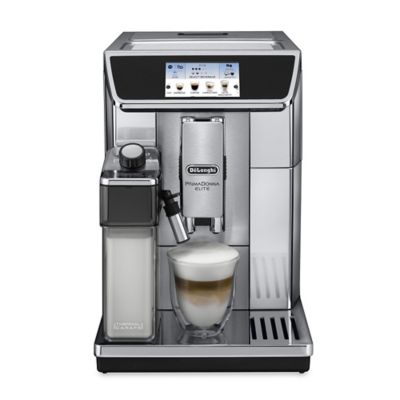 De'Longhi Primadonna Elite Bean To Cup Coffee Machine ECAM650.75.MS
De'Longhi Primadonna Elite Bean To Cup Coffee Machine ECAM650.75.MS
Product number: 31586
You can't put a price on peace of mind
All products include our 3 year guarantee so you can shop with confidence
---
Product Features
Fully programmable coffee machine
Simple touchscreen controls
Select, personalise and store favourite drinks
Integrated hot chocolate feature
Connects via App to your smartphone or tablet
Quick! Last chance to buy

Free UK delivery & returns
3 year guarantee included
Product Features
Fully programmable coffee machine
Simple touchscreen controls
Select, personalise and store favourite drinks
Integrated hot chocolate feature
Connects via App to your smartphone or tablet
Frequently bought together
De'Longhi Primadonna Elite Bean To Cup Coffee Machine ECAM650.75.MS

The fully programmable De'Longhi Primadonna Elite bean to cup coffee machine is simply gorgeous, but you'd expect nothing less from the masters of Italian design. However, its more than just a pretty face. Technology-packed, simple to use and app-controlled, this coffee machine is the real deal.

Simple Touch-Screen Controls

Simple touch screen controls, and a clear 4.3" colour display, make it easy to choose the drink you want. The screen lets you save your favourite drinks, be it cappuccino or macchiato, for quick access, particularly useful first thing in the morning. You can also manage up to 6 different profiles, all at the simple touch of a button.

Personalise Your Favourite Drinks

Customise the settings to ensure your morning brew is exactly how you like it. Just use the simple touch screen controls to suit your own tastes, and save it on the machine for next time.

Integrated Hot Chocolate Function

If your guest isn't a coffee drinker, or you need something to warm you up on those chilly winter evenings, the integrated hot chocolate feature gives you café-style chocolate at the touch of a button. Made with a dedicated carafe, you can even adjust the level of thickness of your drink.

Connects to Phone or Tablet

Connect your Primadonna Elite to the De'Longhi Coffee Link app on your smartphone or tablet for real-time controls, limitless customizations, and the ability to alter general settings on your machine without having to leave the sofa.

Easy to Clean

The brewing unit of the Primadonna Elite is removable for easy cleaning, while instructions on the built-in display ensure use and maintenance is as easy as possible. It also features dishwasher safe parts for an extra deep clean.

About De'Longhi

Founded in 1902, De'Longhi are the masters of sleek Italian design. Specialising in electrical kitchen appliances, De'Longhi's range of effortlessly stylish products also feature simple controls which make that perfect latte, round of toast, or cup of tea quick and easy.

As well as being beautiful and functional, De'Longhi use the best materials to contruct their products, meaning they are not just built to look good, but to last. With their breath-taking looks, intuitive controls, and top quality build, we're confident De'Longhi's line of coffee machines, toasters and kettles will be gracing kitchen worktops for years to come.

48 x 26 x 34.5cm H. 2 litre. 1450W.

Delivery

UK Mainland
Standard Delivery
3-5 Working Days
Express Delivery
Next Day (if ordered before 7pm Monday to Friday. 2 days after 7pm including Weekends/Bank Holidays)*
Sunday Express Delivery
Sunday (if ordered between 6pm Friday and 6pm Saturday)*
Click & Collect
Available at Delivery Page

BFPO & Foreign & Commonwealth Office
Standard Delivery
3-5 Working Days*

Eire (Ireland)
Standard Delivery
7 Working Days*

EU countries
Standard Delivery
7-10 Working Days*

Rest of the world
Standard Delivery
7-10 Working Days*

* Some delivery services may not be available in your area, the delivery page will display the available delivery services during checkout.

Returns

We want you to enjoy shopping at Lakeland with complete confidence, which is why every single product you buy from us comes with a 3 year guarantee – just bring along your receipt or emailed order confirmation as proof of purchase. Plus all returns are free.

To do this, it would be really helpful if you could call one of our friendly Customer Services Advisors on 015394 88100 first, as there are occasions when it may not be necessary for you to be inconvenienced by sending a product back to us.

There are currently no reviews, be the first to write one!

Sign in and write a review

Useful documents

Receive over £200 Free Gifts

Buy this DeLonghi coffee machine before 31st December 2017 and we will include a leaflet detailing more than £200 in Free Gifts including a set of 6 thermal coffee glasses, coffee machine service (after 12 and 24 months), Premium Union coffee beans and 5-piece machine care kit offer.

Full details are available on the leaflet here.