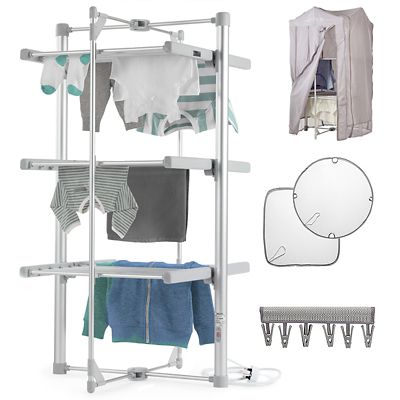 Dry:Soon 3-Tier Heated Airer and Peg Offer Bundle
Dry:Soon 3-Tier Heated Airer and Peg Offer Bundle
Product number: 25890
You can't put a price on peace of mind
All products include our 3 year guarantee so you can shop with confidence
---
Product Features
Dry clothes more quickly and efficiently
Costs less than 6p per hour to run
Cover keeps heat contained to speed up drying
Cover turns into a storage bag for your airer
Mesh Shelf Duo stops smalls falling through shelves
Holds 15kg of wet washing on 21m of drying space
In Stock

Free UK delivery & returns
Lakeland 3 year guarantee included
Product Features
Dry clothes more quickly and efficiently
Costs less than 6p per hour to run
Cover keeps heat contained to speed up drying
Cover turns into a storage bag for your airer
Mesh Shelf Duo stops smalls falling through shelves
Holds 15kg of wet washing on 21m of drying space
Dry:Soon 3-Tier Heated Airer and Peg Offer Bundle

Bundle contains 3-Tier Heated Tower Airer with 3-Tier Heated Airer Cover and Mesh Shelf Duo and 6 Peg Hanger

Our 3-Tier Heated Airer, Cover, Shelf and Peg Hanger bundle will dry your clothes more quickly, no matter what the weather's doing. To improve the performance of your 3-Tier Heated Airer place this dual-purpose cover over it. Speeding up the drying process by keeping heat contained, the front panel unzips for easy access and a mesh vent allows airflow to aid even drying. Washable polyester cotton cover turns into a practical storage bag for your folded airer.

Adapt your heated airer for drying delicates and smaller items which might otherwise fall through the bars with this pair of pop-up mesh shelves. The round one sits neatly over the top, while the square one rests on the bars. Fold for storage. Polyester mesh with wire edging.

A new addition is our 6-Peg Hanger, which wraps easily onto any of the heated bars and will hold onto those little rogue items, stopping them from falling off. In fact, anything that tends to slip through the bars can now be held firmly in place, thanks to this little row of petite pegs which attaches with hook and loop tape.

Economical

Costing less than 6p an hour to run, it's also gentler on your clothes than tumble drying and better than wasting heat by putting garments over your radiators.

Versatile

Fully open, it's easy to lay delicate items flat or dry smalls and socks – or just open the top shelves to take care of longer items like towels or trousers. You can also save space by only opening the shelves on one side if you don't have much to dry.

Convenient

Lightweight and easy to shift around to where it's needed, it holds up to 15kg of wet washing on 21m of drying space and folds down small for easy storage. When your clothes are dry, an external zip turns the cover into a practical storage bag for your folded airer.

3-Tier Deluxe Heated Tower Airer Bundle also available.

Airer fully open 73 x 75 x 137cm H. (28 3/4" x 29 1/2" x 54"); folds to a depth of 8cm (3"). Flex length 135cm. Comes packaged in a large box that is 142cm x 80cm x 9cm. (56" x 31½" x 3½"). 300W.

Delivery

UK Mainland
Standard Delivery
3-5 Working Days
Express Delivery
Next Day (if ordered before 7pm Monday to Friday. 2 days after 7pm including Weekends/Bank Holidays)*
Sunday Express Delivery
Sunday (if ordered between 6pm Friday and 6pm Saturday)*
Click & Collect
Available at Delivery Page

BFPO & Foreign & Commonwealth Office
Standard Delivery
3-5 Working Days*

Eire (Ireland)
Standard Delivery
7 Working Days*

EU countries
Standard Delivery
7-10 Working Days*

Rest of the world
Standard Delivery
7-10 Working Days*

* Some delivery services may not be available in your area, the delivery page will display the available delivery services during checkout.

Returns

We want you to enjoy shopping at Lakeland with complete confidence, which is why every single product you buy from us comes with a 3 year guarantee – just bring along your receipt or emailed order confirmation as proof of purchase. Plus all returns are free.

To do this, it would be really helpful if you could call one of our friendly Customer Services Advisors on 015394 88100 first, as there are occasions when it may not be necessary for you to be inconvenienced by sending a product back to us.

There are currently no reviews, be the first to write one!

Sign in and write a review

Dry:Soon Bundle Offer - Save £12

Save £12 compared to buying these items separately.