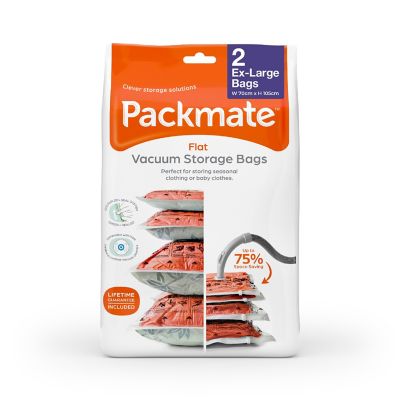 2 Pack-Mate® Extra Large Flat Vacuum Bags
2 Pack-Mate® Extra Large Flat Vacuum Bags
Product number: 25618
You can't put a price on peace of mind
All products include our 3 year guarantee so you can shop with confidence
---
Product Features
Reduce stored items to quarter their normal size
Two-tone zips to easily see when bags are sealed
Moths, moisture, odour and dust are locked out
Bags can be used over and over again
Perfect for a double bedding set
3 year guarantee included
Product Features
Reduce stored items to quarter their normal size
Two-tone zips to easily see when bags are sealed
Moths, moisture, odour and dust are locked out
Bags can be used over and over again
Perfect for a double bedding set
Frequently bought together
2 Pack-Mate® Extra Large Flat Vacuum Bags

Perfect for storage on a shelf, in a drawer or under the bed, Pack-Mate's extra large flat vacuum storage bags compress their contents to a flatter shape while protecting them at the same time.

Just the right size for a double bedding set.

Patterns may vary.

About Packmate Vacuum Storage Bags

Quadrupling your storage space by reducing seasonal clothing, duvets, quilts and blankets to a quarter of their normal size, Pack-Mate's easy-to-seal bags ensure moths, moisture, odour and dust are locked out, ensuring their contents stay fresh during storage.

Easy to Use

Fill your bag using the wide opening, close it up – a two-tone zip helps you see at a glance whether it's properly sealed – then simply suck out the air from the easy-to-use valve with your vacuum cleaner nozzle.

Reusable

Items spring back to their original shape when removed from the bags and, because the bags won't tear, they can be used again and again. Not only this, but they are approved by the Good Housekeeping Institute.

5-year manufacturer's guarantee.

70 x 105cm

Delivery

UK Mainland
Standard Delivery
3-5 Working Days
Express Delivery
Next Day (if ordered before 7pm Monday to Friday. 2 days after 7pm including Weekends/Bank Holidays)*
Sunday Express Delivery
Sunday (if ordered between 6pm Friday and 6pm Saturday)*
Click & Collect
Available at Delivery Page

BFPO & Foreign & Commonwealth Office
Standard Delivery
3-5 Working Days*

Eire (Ireland)
Standard Delivery
7 Working Days*

EU countries
Standard Delivery
7-10 Working Days*

Rest of the world
Standard Delivery
7-10 Working Days*

* Some delivery services may not be available in your area, the delivery page will display the available delivery services during checkout.

Returns

We want you to enjoy shopping at Lakeland with complete confidence, which is why every single product you buy from us comes with a 3 year guarantee – just bring along your receipt or emailed order confirmation as proof of purchase. Plus all returns are free.

To do this, it would be really helpful if you could call one of our friendly Customer Services Advisors on 015394 88100 first, as there are occasions when it may not be necessary for you to be inconvenienced by sending a product back to us.

There are currently no reviews, be the first to write one!

Sign in and write a review

Buy one, get one HALF PRICE

Buy one get one HALF PRICE on the Pack-Mate Vacuum Bags range (lower priced item half price).