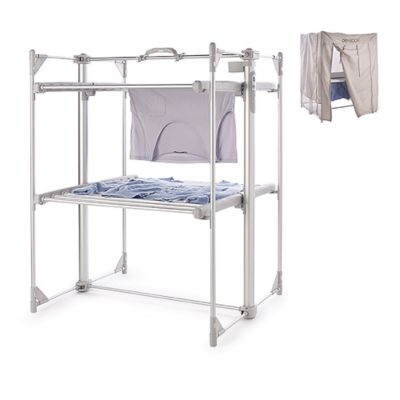 Dry:Soon Deluxe 2-Tier Heated Airer and Cover Offer Bundle
Dry:Soon Deluxe 2-Tier Heated Airer and Cover Offer Bundle
Product number: 25596
You can't put a price on peace of mind
All products include our 3 year guarantee so you can shop with confidence
---
Product Features
Dry clothes more quickly and efficiently
Costs less than 4p per hour to run
Cover keeps heat contained to speed up drying
Cover turns into a storage bag for your airer
Holds 10kg of wet washing on 13m of drying space
In Stock

Free UK delivery & returns
Lakeland 3 year guarantee included
Product Features
Dry clothes more quickly and efficiently
Costs less than 4p per hour to run
Cover keeps heat contained to speed up drying
Cover turns into a storage bag for your airer
Holds 10kg of wet washing on 13m of drying space
Dry:Soon Deluxe 2-Tier Heated Airer and Cover Offer Bundle

Bundle contains Dry:Soon Deluxe 2-Tier Heated Airer and Dry:Soon Deluxe 2-Tier Heated Airer Cover.

Our Deluxe 2-Tier Heated Airer will get your clothes dry when the weather outside is just not playing ball.

Economical

Costing less than 4p an hour to run, it's kinder to your clothes than tumble drying. A control panel at the top makes switching on and off easy, while a simple timer function can be set to switch it on and off up to 12 hours in advance.

Versatile

With an open-sided shelf design, it's also really easy to fill and has a generous 13m drying space on a small footprint. It can hold up to 10kg of wet washing and the shelves can be positioned to suit your load – for smaller loads and confined spaces just fold out the shelves on one side, or use only the top ones when you have towels or longer items to dry.

Convenient

Made from robust yet lightweight aluminium, with side supports to keep it stable, it's easy to move around and store. Folding almost flat when not in use, to make it even easier to stow away, it also has a carry handle, a cord and plug tidy and built-in clips to hold it securely closed.

Cover

Designed specifically to fit the 2 Tier Dry:Soon Deluxe Heated Airer, this dual-purpose cover speeds up the drying process by keeping heat contained and also adapts into a handy storage bag when your airer is not in use. Made from a poly-cotton fabric, which allows moisture to evaporate as your clothes dry, there are mesh vent panels at the base to let air circulate for more effective drying.

Simple to put over your airer, it's easy to access the hanging bars to load or unload your airer with the cover still in place thanks to its roll-up door with twin zips and fixing straps. Helpfully, there are two zipped slots in the top which open to let you access your airer's carry handle - whether your airer is folded or in use - for easy manoeuvring. And when you're done drying, a zipped gusset lets you transform the cover into a smaller protective bag for storing your folded airer. Machine washable at 30?.

Airer fully open 70 x 75 x 95cm H. Folds to 9cm deep. 200W.

Delivery

UK Mainland
Standard Delivery
3-5 Working Days
Express Delivery
Next Day (if ordered before 7pm Monday to Friday. 2 days after 7pm including Weekends/Bank Holidays)*
Sunday Express Delivery
Sunday (if ordered between 6pm Friday and 6pm Saturday)*
Click & Collect
Available at Delivery Page

BFPO & Foreign & Commonwealth Office
Standard Delivery
3-5 Working Days*

Eire (Ireland)
Standard Delivery
7 Working Days*

EU countries
Standard Delivery
7-10 Working Days*

Rest of the world
Standard Delivery
7-10 Working Days*

* Some delivery services may not be available in your area, the delivery page will display the available delivery services during checkout.

Returns

We want you to enjoy shopping at Lakeland with complete confidence, which is why every single product you buy from us comes with a 3 year guarantee – just bring along your receipt or emailed order confirmation as proof of purchase. Plus all returns are free.

To do this, it would be really helpful if you could call one of our friendly Customer Services Advisors on 015394 88100 first, as there are occasions when it may not be necessary for you to be inconvenienced by sending a product back to us.

There are currently no reviews, be the first to write one!

Sign in and write a review

Dry:Soon Bundle Offer - Save £10

Save £10 compared to buying these items separately.