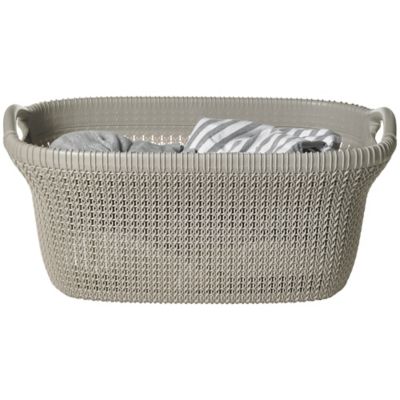 Knit-Effect Laundry Basket Dune
Knit-Effect Laundry Basket Dune
Product number: 25088
You can't put a price on peace of mind
All products include our 3 year guarantee so you can shop with confidence
Lakeland 3 year guarantee included
Product Features
Stylish and sturdy laundry basket
No sharp edges to catch on washing
Durable polypropylene won't discolour or warp
Easily holds a full machine load
With two carry handles
Frequently bought together
Knit-Effect Laundry Basket Dune

Inspired by the shape and texture of traditional wicker, this generously sized, neutral coloured Curver laundry basket is sturdy enough to take a full load of washing and has no sharp edges to catch on your washing. With two comfortable carry handles.

About the Knit-Effect Storage Range

From cosy cottage to ultra modern, every home has stuff, and all that stuff needs to be kept somewhere. Providing a variety of practical storage options, this range of knit-effect baskets and tubs in three subtly neutral colours will complement any decor as they help banish clutter wherever they're needed. Attractively designed with a contemporary textured finish, they're made from durable, easy-clean polypropylene so will never rust, discolour or warp.

59.5 x 39 x 27cm H. 40 litre.

Delivery

UK Mainland
Standard Delivery
3-5 Working Days
Express Delivery
Next Day (if ordered before 7pm Monday to Friday. 2 days after 7pm including Weekends/Bank Holidays)*
Sunday Express Delivery
Sunday (if ordered between 6pm Friday and 6pm Saturday)*
Click & Collect
Available at Delivery Page

BFPO & Foreign & Commonwealth Office
Standard Delivery
3-5 Working Days*

Eire (Ireland)
Standard Delivery
7 Working Days*

EU countries
Standard Delivery
7-10 Working Days*

Rest of the world
Standard Delivery
7-10 Working Days*

* Some delivery services may not be available in your area, the delivery page will display the available delivery services during checkout.

Returns

We want you to enjoy shopping at Lakeland with complete confidence, which is why every single product you buy from us comes with a 3 year guarantee – just bring along your receipt or emailed order confirmation as proof of purchase. Plus all returns are free.

To do this, it would be really helpful if you could call one of our friendly Customer Services Advisors on 015394 88100 first, as there are occasions when it may not be necessary for you to be inconvenienced by sending a product back to us.

Knit-Effect Laundry Basket Dune

"Wonderful buy"

Miss Lowe

26 October 2017

Brilliant. Perfect size and shape. Nice and light.