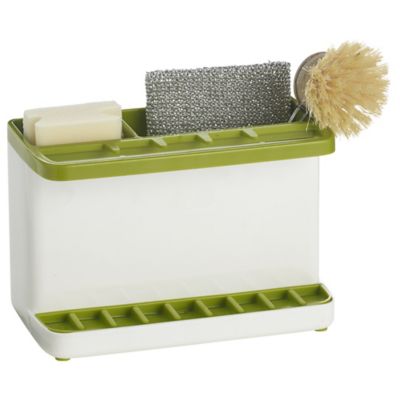 ILO Large Sink Tidy White/Green
ILO Large Sink Tidy White/Green
Product number: 25070
You can't put a price on peace of mind
All products include our 3 year guarantee so you can shop with confidence
---
Product Features
Extra-wide for more sink-side storage
Large compartment for washing-up liquid bottles and brushes
Shallow compartment for sponges
Non-slip rail for hanging dishcloths
Comes apart for easy cleaning
3 year guarantee included
Product Features
Extra-wide for more sink-side storage
Large compartment for washing-up liquid bottles and brushes
Shallow compartment for sponges
Non-slip rail for hanging dishcloths
Comes apart for easy cleaning
Frequently bought together
ILO Large Sink Tidy White/Green

Just the job for clearing up clutter around the sink, our contemporary white and green sink tidy has an extra wide, deep compartment for storing your bottles and brushes, a shallower one for sponges and scourers, a storage plate for draining soggy sponges and a non-slip rail to hang your dishcloths over. Drainage channels collect and direct water to the front, where cut away corners make it easy to pour away, it comes apart for easy cleaning and soft, anti-slip feet help to hold it securely in place.

If you don't need quite so much space for your sink-side bits and bobs, it also comes in a smaller size; and it also comes in sleek Grey/Grey if you're looking for a different colour.

Matching Clam Shell Dish Drainer and Cutlery Drainer also available.

21 x 11.5 x 14cm H.

Delivery

UK Mainland
Standard Delivery
3-5 Working Days
Express Delivery
Next Day (if ordered before 7pm Monday to Friday. 2 days after 7pm including Weekends/Bank Holidays)*
Sunday Express Delivery
Sunday (if ordered between 6pm Friday and 6pm Saturday)*
Click & Collect
Available at Delivery Page

BFPO & Foreign & Commonwealth Office
Standard Delivery
3-5 Working Days*

Eire (Ireland)
Standard Delivery
7 Working Days*

EU countries
Standard Delivery
7-10 Working Days*

Rest of the world
Standard Delivery
7-10 Working Days*

* Some delivery services may not be available in your area, the delivery page will display the available delivery services during checkout.

Returns

We want you to enjoy shopping at Lakeland with complete confidence, which is why every single product you buy from us comes with a 3 year guarantee – just bring along your receipt or emailed order confirmation as proof of purchase. Plus all returns are free.

To do this, it would be really helpful if you could call one of our friendly Customer Services Advisors on 015394 88100 first, as there are occasions when it may not be necessary for you to be inconvenienced by sending a product back to us.

There are currently no reviews, be the first to write one!

Sign in and write a review

FREE Cleaning Cloths worth £9.99

Buy selected ILO products before 30th September 2017 and we will include a free pack of Bright Blooms Cleaning Cloths - worth £9.99 if purchased separately.