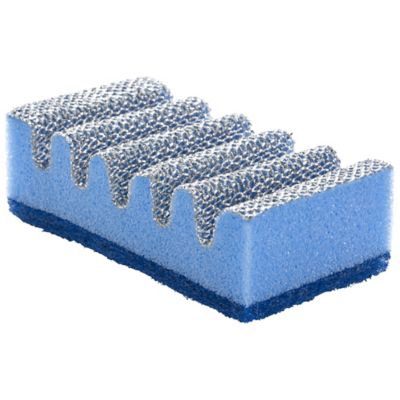 Oven Mate Grill Gremlin
Oven Mate Grill Gremlin
Product number: 24725
You can't put a price on peace of mind
All products include our 3 year guarantee so you can shop with confidence
Lakeland 3 year guarantee included
Product Features
Cleverly shaped sponge scourer for racks and grills
Ridges fit easily around five bars at once
Anti-scratch, woven silver coating removes baked-on grime
Tough, flat pad for stubborn grease stains
Pack of 2
Frequently bought together
Oven Mate Grill Gremlin

When it comes to cleaning oven, grill and barbecue racks, trust these fiendishly effective Oven Mate Grill Gremlin scourers to give you a gleaming finish. Quick and easy to use they make oven cleaning a breeze.

The ridges on one side have been cleverly designed to fit between each bar to scrub five at once from all sides, and the scourers have an anti scratch, woven silver coating to remove baked-on grime, while the tough pad on the flat side is great for tackling stubborn grease stains.

Part of the Oven Mate Cleaning range.

13.5 x 7cm. Pack of 2.

Delivery

UK Mainland
Standard Delivery
3-5 Working Days
Express Delivery
Next Day (if ordered before 7pm Monday to Friday. 2 days after 7pm including Weekends/Bank Holidays)*
Sunday Express Delivery
Sunday (if ordered between 6pm Friday and 6pm Saturday)*
Click & Collect
Available at Delivery Page

BFPO & Foreign & Commonwealth Office
Standard Delivery
3-5 Working Days*

Eire (Ireland)
Standard Delivery
7 Working Days*

EU countries
Standard Delivery
7-10 Working Days*

Rest of the world
Standard Delivery
7-10 Working Days*

* Some delivery services may not be available in your area, the delivery page will display the available delivery services during checkout.

Returns

We want you to enjoy shopping at Lakeland with complete confidence, which is why every single product you buy from us comes with a 3 year guarantee – just bring along your receipt or emailed order confirmation as proof of purchase. Plus all returns are free.

To do this, it would be really helpful if you could call one of our friendly Customer Services Advisors on 015394 88100 first, as there are occasions when it may not be necessary for you to be inconvenienced by sending a product back to us.

Oven Mate Grill Gremlin

"A good grillind."

Mr Lochery

23 October 2017

I find this wonderful for cleaning my grill.

Oven Mate Grill Gremlin

"So Clever !!!"

Mrs Simper

28 April 2016

I bought these along with the Oven Mate gel, and thought i would give these a try, they are really clever, so simple, and makes cleaning the racks so much easier, i try to give the racks a clean after using them to keep on top of them, i must admit that i used the Just For Racks previously as the racks had taken a bit of use shall i say. love them :)

Oven Mate Grill Gremlin

"Brilliant"

Yvonne

08 April 2016

Where have these been all my life? Ordered some recently and they are absolutely wonderful. Used to hate cleaning my oven shelves but its a breeze with the oven mate grill gremlin. Now I almost look forward to what was a horrible job. I already have the oven rack soaking tray so between the two products I have no problem cleaning the oven shelves. Thank you Lakeland.