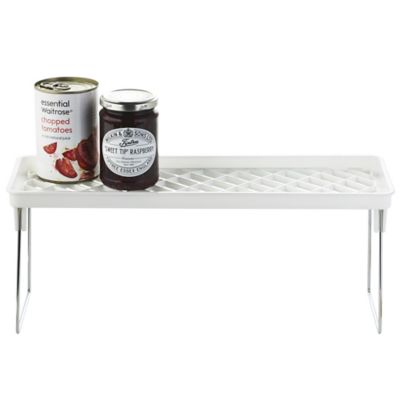 Handy Shelf Slimline White
Handy Shelf Slimline White
Product number: 24656
You can't put a price on peace of mind
All products include our 3 year guarantee so you can shop with confidence
---
Product Features
Instant extra shelf for cupboards
Keep cupboards neat and orderly
Stackable
Slimline shelf is great for tins or mugs
Lakeland 3 year guarantee included
Product Features
Instant extra shelf for cupboards
Keep cupboards neat and orderly
Stackable
Slimline shelf is great for tins or mugs
Handy Shelf Slimline White

We could all do with a bit of extra storage space in our kitchen cupboards, and this slimline Handy Shelf fits the bill perfectly. Whether it's for tinned food, plates and cups, this shelf is strong enough to handle all of it and keeps your cupboards neat and orderly in the process. When not in use, these shelves fold flat and are stackable.

43cm x 15cm x 17.5cm H

Delivery

UK Mainland
Standard Delivery
3-5 Working Days
Express Delivery
Next Day (if ordered before 7pm Monday to Friday. 2 days after 7pm including Weekends/Bank Holidays)*
Sunday Express Delivery
Sunday (if ordered between 6pm Friday and 6pm Saturday)*
Click & Collect
Available at Delivery Page

BFPO & Foreign & Commonwealth Office
Standard Delivery
3-5 Working Days*

Eire (Ireland)
Standard Delivery
7 Working Days*

EU countries
Standard Delivery
7-10 Working Days*

Rest of the world
Standard Delivery
7-10 Working Days*

* Some delivery services may not be available in your area, the delivery page will display the available delivery services during checkout.

Returns

We want you to enjoy shopping at Lakeland with complete confidence, which is why every single product you buy from us comes with a 3 year guarantee – just bring along your receipt or emailed order confirmation as proof of purchase. Plus all returns are free.

To do this, it would be really helpful if you could call one of our friendly Customer Services Advisors on 015394 88100 first, as there are occasions when it may not be necessary for you to be inconvenienced by sending a product back to us.

Handy Shelf Slimline White

"Tidy cupboards"

Denise

17 July 2017

So much more space now to stack cans and jars.

Handy Shelf Slimline White

"BEST EVER STORAGE SHELF"

Mrs Edwards

24 October 2016

I bought two of these and they went into use immediately, one on my dressing table to organise my bottles etc the other on my hall stand for keys, glasses and other bits so now have to order two more for when my new kitchen is completed.

Handy Shelf Slimline White

"really useful"

03 August 2016

I bought one of these shelves not knowing that there was a half price offer on them as there was no sign on display at the store, had I known I would have bought 2 , really annoying... Really useful, strong and sturdy I am using it to hold a portable tv up from the worktop, could have really done with the second!!!

A note from the team

Thank you for placing your review. We're pleased to hear how much you like the shelf and we'll be in touch to help.

Buy one, get one HALF PRICE

Buy one get one HALF PRICE on Handy Shelves.