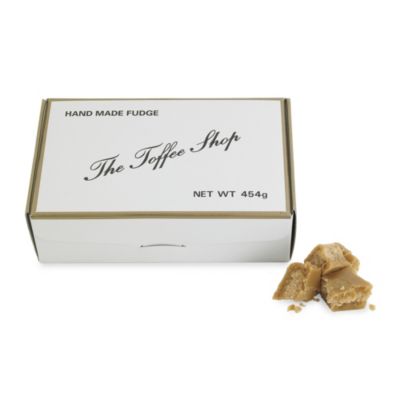 The Toffee Shop Fudge 454g
The Toffee Shop Fudge 454g
Product number: 2455
Product Features
Deliciously creamy fudge
Handmade in the Lake District
Freshly made for best possible taste
Suitable for vegetarians
The Toffee Shop Fudge 454g

Try a creamy morsel of this irresistible Toffee Shop Hand Made Fudge and you'll be coming back for more.

Made in the back room of a small shop in the Lake District, and boxed in marble-type slabs, it's simply the best fudge there is. Ideal for a birthday or Christmas gift this fudge makes an extra special treat.

This is a freshly made fudge product, therefore the shelf life after purchase is approximately 8 weeks.

454g. (1lb)., (220p/100g.)

Ingredients (as on packaging):

sugar, butter, partially inverted syrup, milk.

Allergen warning: contains milk.

Delivery

UK Mainland
Standard Delivery
3-5 Working Days
Express Delivery
Next Day (if ordered before 7pm Monday to Friday. 2 days after 7pm including Weekends/Bank Holidays)*
Sunday Express Delivery
Sunday (if ordered between 6pm Friday and 6pm Saturday)*
Click & Collect
Available at Delivery Page

BFPO & Foreign & Commonwealth Office
Standard Delivery
3-5 Working Days*

Eire (Ireland)
Standard Delivery
7 Working Days*

EU countries
Standard Delivery
7-10 Working Days*

Rest of the world
Standard Delivery
7-10 Working Days*

* Some delivery services may not be available in your area, the delivery page will display the available delivery services during checkout.

Returns

We want you to enjoy shopping at Lakeland with complete confidence, which is why every single product you buy from us comes with a 3 year guarantee – just bring along your receipt or emailed order confirmation as proof of purchase. Plus all returns are free.

To do this, it would be really helpful if you could call one of our friendly Customer Services Advisors on 015394 88100 first, as there are occasions when it may not be necessary for you to be inconvenienced by sending a product back to us.

The Toffee Shop Fudge 454g

"A real treat"

17 January 2018

This fudge is absolutely delicious and my special treat.

The Toffee Shop Fudge 454g

"Fab Fudge"

Mrs Crowther

15 January 2018

This review is for an older version of this product

Only two words required-Absolutely Divine!!

The Toffee Shop Fudge 454g

"Love this"

04 January 2018

I have bought this fudge a few times. It's a favourite with the family, they love to get it in a wee hamper of treats.