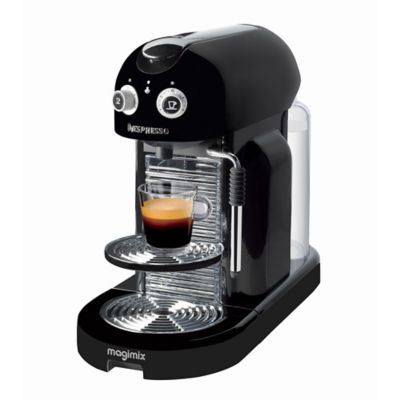 Magimix® Nespresso® Maestria Black Coffee Pod Machine 11331
Magimix® Nespresso® Maestria Black Coffee Pod Machine 11331
Product number: 19347
You can't put a price on peace of mind
All products include our 3 year guarantee so you can shop with confidence
---
Product Features
Retro-styled cast aluminium coffee machine
Steam wand for frothing milk
10 cup size options to choose from
Power-saving timer with 5 settings
Comes with 16 Nespresso capsules
In Stock

Free UK delivery & returns
Lakeland 3 year guarantee included
Product Features
Retro-styled cast aluminium coffee machine
Steam wand for frothing milk
10 cup size options to choose from
Power-saving timer with 5 settings
Comes with 16 Nespresso capsules
Frequently bought together
Magimix® Nespresso® Maestria Black Coffee Pod Machine 11331

With the Maestria Nespresso coffee machine, Magimix have created a serious barista's dream machine in a neat, retro-styled package. Taking up very little space, this wonderfully curvaceous coffee machine will be an indispensable worktop addition.

Strong and Stylish

With its wonderful curves, black finish with chrome accents, this coffee machine is sure to take pride of place in any coffee lover's kitchen. It's small footprint ensures it won't eat up all the worktop space, letting you put it into any space that's convenient for you. The strong cast aluminium body ensures it is built to last, too.

Easy To Use

Using Nespresso's coffee capsule system, making the perfect café-quality coffee has never been easier. This coffee machine has a powerful 19-bar pressure force, pushing water through the coffee, and a Thermoblock heating system warming water to the optimum temperature, ensuring great a great tasting brew when its finished.

With dials on the front of the machine to adjust the cup size between one of the 10 options, and an easy push/pull lever cover for ensuring your pod is in perfectly, you can have an espresso with professional-looking crema in your own kitchen at the touch of a button. The pivoting cup tray also folds up to allow for larger mugs and latte glasses too.

Frothing Wand

For the perfect frothy top on your latte, the Maestria has an integrated milk steam wand for warming and frothing milk. Simply pop it in your milk jug and leave to froth until your milk is at the perfect consistency for your taste.

Features

19-bar pressure
Cast aluminium body
Pivoting cup tray caters for cups, mugs and latte glasses
Integrated steam wand
Descaling alarm
Includes 16 Nespresso capsules

About Magimix

Established in 1963 in the Burgundy region of France, a region famed for its gastronomy, Magimix combine the latest technology with traditional cooking techniques to design small electrical appliances that make life easier for even the most serious chefs. Having originally specialised in gadgets to help make food prep as easy as possible, their range of products now includes everything from coffee machines to blenders.

17.5 x 40 x 30.5cm H. Watts 2300

Delivery

UK Mainland
Standard Delivery
3-5 Working Days
Express Delivery
Next Day (if ordered before 7pm Monday to Friday. 2 days after 7pm including Weekends/Bank Holidays)*
Sunday Express Delivery
Sunday (if ordered between 6pm Friday and 6pm Saturday)*
Click & Collect
Available at Delivery Page

BFPO & Foreign & Commonwealth Office
Standard Delivery
3-5 Working Days*

Eire (Ireland)
Standard Delivery
7 Working Days*

EU countries
Standard Delivery
7-10 Working Days*

Rest of the world
Standard Delivery
7-10 Working Days*

* Some delivery services may not be available in your area, the delivery page will display the available delivery services during checkout.

Returns

We want you to enjoy shopping at Lakeland with complete confidence, which is why every single product you buy from us comes with a 3 year guarantee – just bring along your receipt or emailed order confirmation as proof of purchase. Plus all returns are free.

To do this, it would be really helpful if you could call one of our friendly Customer Services Advisors on 015394 88100 first, as there are occasions when it may not be necessary for you to be inconvenienced by sending a product back to us.

There are currently no reviews, be the first to write one!

Sign in and write a review

Useful documents

Receive Up to £75 Nespresso Club Reward

Buy a Nespresso coffee machine before 31st January 2018 and we will include a leaflet detailing the £45 Club Rewards offer for non-milk and £75 Club Rewards for milk machines.

Full details are available on the leaflet here.