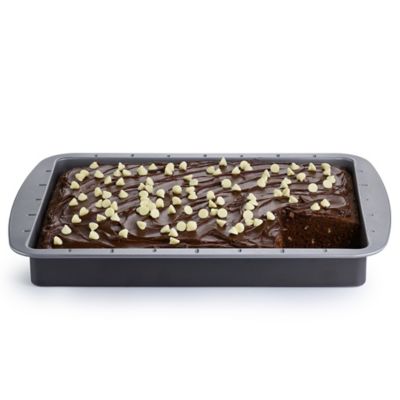 Mary Berry with Lakeland Traybake
Mary Berry with Lakeland Traybake
Product number: 18610
You can't put a price on peace of mind
All products include our 3 year guarantee so you can shop with confidence
---
Product Features
Perfect for all traybake recipes
Metal-hard, non-stick coating
Integral cutting guides
Lakeland 3 year guarantee included
Product Features
Perfect for all traybake recipes
Metal-hard, non-stick coating
Integral cutting guides
Frequently bought together
Mary Berry with Lakeland Traybake

Author, television presenter, celebrity chef and general baker extraordinaire, Mary Berry knows a thing or two about baking – her lemon meringue pie is legendary, her traybakes are terrific and as for her Victoria sponge, well, that's just one of the many reasons she's known as the Queen of Cakes! She has a wealth of experience and we're delighted to work with her in bringing you this special range that will help ensure your baking is as successful as Mary's

Perfect for all your 12" x 9" traybake recipes, the metal-hard, non-stick coating both inside and out retains its superior food release, even when marked with a knife; just grease the pan well before use and traybakes are released perfectly. Integral cutting guides and straight sides ensure equal slices.

The Mary Berry with Lakeland Traybake can be used with Mary Berry's Coffee & Walnut Traybake recipe.

External dimensions 34.5 x 24 x 4cm H. (13½" x 9½" x 1½").

Delivery

UK Mainland
Standard Delivery
3-5 Working Days
Express Delivery
Next Day (if ordered before 7pm Monday to Friday. 2 days after 7pm including Weekends/Bank Holidays)*
Sunday Express Delivery
Sunday (if ordered between 6pm Friday and 6pm Saturday)*
Click & Collect
Available at Delivery Page

BFPO & Foreign & Commonwealth Office
Standard Delivery
3-5 Working Days*

Eire (Ireland)
Standard Delivery
7 Working Days*

EU countries
Standard Delivery
7-10 Working Days*

Rest of the world
Standard Delivery
7-10 Working Days*

* Some delivery services may not be available in your area, the delivery page will display the available delivery services during checkout.

Returns

We want you to enjoy shopping at Lakeland with complete confidence, which is why every single product you buy from us comes with a 3 year guarantee – just bring along your receipt or emailed order confirmation as proof of purchase. Plus all returns are free.

To do this, it would be really helpful if you could call one of our friendly Customer Services Advisors on 015394 88100 first, as there are occasions when it may not be necessary for you to be inconvenienced by sending a product back to us.

Mary Berry with Lakeland Traybake

"Traybake"

Jacqueline Watson

20 February 2018

Great quality as always, excellent value for money

Mary Berry with Lakeland Traybake

"Baking"

Mrs Brooksbank

31 August 2017

Tried it out straightaway. Great. Easy to use, easy to clean. Perfect size for batch baking.

Mary Berry with Lakeland Traybake

"Does what it says on the tin!"

Mrs Astles

08 August 2017

I bought this as I was fed up of my tray bakes not turning out as well as they should because I was using a tin that was never quite the right size for the recipe. This tin is amazing! Not only is it the perfect size for Marys receipts - surprise surprise - but it has the most amazing non stick qualities. No more wresting with a bake that sticks in the corners and it washes like a dream. The guidelines are helpful - a bit small if you're making flapjacks but definitely makes sure you get more equal sizes. Well worth the price as I'm sure it will last for years!