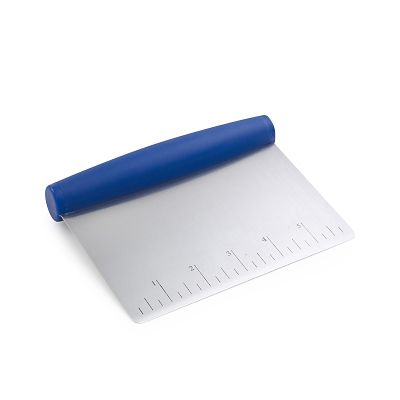 Dough Scraper
Dough Scraper
Product number: 17909
You can't put a price on peace of mind
All products include our 3 year guarantee so you can shop with confidence
Lakeland 3 year guarantee included
Product Features
Stainless steel cutting blade with measurements
Non-slip, soft plastic handle
Perfect for portioning bread dough and pastry
Ideal for scraping leftover dough for re-rolling
Frequently bought together
Dough Scraper

A must for cleanly dividing and portioning bread dough, and scraping up leftovers before re-rolling, our Stainless Steel Dough Scraper will ensure you get the most out of every last bit of dough mixture.

For ease of use, the scraper has a non-slip plastic handle and a tough stainless steel blade with measurements printed onto it. Not just great for bread, pizza and pasta dough, it is also ideal for dividing cookie dough and pastry too.

15cm (6").

Delivery

UK Mainland
Standard Delivery
3-5 Working Days
Express Delivery
Next Day (if ordered before 7pm Monday to Friday. 2 days after 7pm including Weekends/Bank Holidays)*
Sunday Express Delivery
Sunday (if ordered between 6pm Friday and 6pm Saturday)*
Click & Collect
Available at Delivery Page

BFPO & Foreign & Commonwealth Office
Standard Delivery
3-5 Working Days*

Eire (Ireland)
Standard Delivery
7 Working Days*

EU countries
Standard Delivery
7-10 Working Days*

Rest of the world
Standard Delivery
7-10 Working Days*

* Some delivery services may not be available in your area, the delivery page will display the available delivery services during checkout.

Returns

We want you to enjoy shopping at Lakeland with complete confidence, which is why every single product you buy from us comes with a 3 year guarantee – just bring along your receipt or emailed order confirmation as proof of purchase. Plus all returns are free.

To do this, it would be really helpful if you could call one of our friendly Customer Services Advisors on 015394 88100 first, as there are occasions when it may not be necessary for you to be inconvenienced by sending a product back to us.

Dough Scraper

"Dough scraper"

Mrs Cleal

29 January 2018

Does what it says on the tin,very sharp too.

Dough Scraper

"Dough Scraper"

Mr Deakin

12 July 2017

An excellent product. I make bread regularly and this is the perfect tool for scraping and cutting dough into the correct proportions

Dough Scraper

"The fundamental tool for bread makers"

Mr Tait

11 July 2016

There must have been a time when I got by without one of these, but I have no idea how. For dividing and manipulating sticky dough and removing traces from the work surface, there is nothing else so well adapted to the task. This Lakeland version is stiff, robust, borderline sharp and easy to keep clean, which makes it ideal. The measuring scale is a bit of a mystery to me, admittedly, but it's not doing any harm and may come in handy one day. Buy with confidence: this will make life much easier and last for donkey's years.