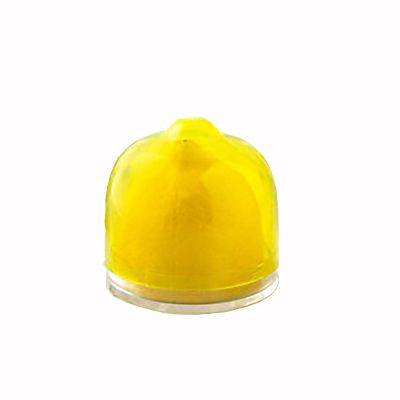 Lemon Fridge Food Saver
Lemon Fridge Food Saver
Product number: 17034
You can't put a price on peace of mind
All products include our 3 year guarantee so you can shop with confidence
---
Product Features
Dedicated, attractive fridge lemon saver
Perfect way to store half a lemon
Screw-on lid locks odours inside
3 year guarantee included
Product Features
Dedicated, attractive fridge lemon saver
Perfect way to store half a lemon
Screw-on lid locks odours inside
Frequently bought together
Lemon Fridge Food Saver

We've all had those recipes which call for the juice of half a lemon, well now, thanks to our Lemon Fridge Saver, you can keep the other half fresh to use at another time.

Designed to look like a lemon, this attractive lemon saver will keep half of a used lemon fresher for longer, meaning you can use it in your next baking session rather than letting it go to waste. With a screw-on lid, the container will trap all odours too, so your fridge will smell like normal.<./p>

Please note: not safe for dishwashers.

7cm (2¾") Dia.

Delivery

UK Mainland
Standard Delivery
3-5 Working Days
Express Delivery
Next Day (if ordered before 7pm Monday to Friday. 2 days after 7pm including Weekends/Bank Holidays)*
Sunday Express Delivery
Sunday (if ordered between 6pm Friday and 6pm Saturday)*
Click & Collect
Available at Delivery Page

BFPO & Foreign & Commonwealth Office
Standard Delivery
3-5 Working Days*

Eire (Ireland)
Standard Delivery
7 Working Days*

EU countries
Standard Delivery
7-10 Working Days*

Rest of the world
Standard Delivery
7-10 Working Days*

* Some delivery services may not be available in your area, the delivery page will display the available delivery services during checkout.

Returns

We want you to enjoy shopping at Lakeland with complete confidence, which is why every single product you buy from us comes with a 3 year guarantee – just bring along your receipt or emailed order confirmation as proof of purchase. Plus all returns are free.

To do this, it would be really helpful if you could call one of our friendly Customer Services Advisors on 015394 88100 first, as there are occasions when it may not be necessary for you to be inconvenienced by sending a product back to us.

Lemon Fridge Food Saver

"Nifty little gadget!"

19 May 2017

Really good quality, in use immediately and I love it!

Lemon Fridge Food Saver

"Great but read the instructions"

Mrs Taylor

14 April 2017

This is great and really keeps the lemons fresh for ages - I left one in the fridge and forgot about it for a couple of weeks and it was still fresh, but I made the mistake of putting it in the dishwasher and know the lid is deformed and won't work. I should have taken notice of the instructions - not save for dishwasher!!

Lemon Fridge Food Saver

"Excellent!"

Fiona

04 September 2014

I am online to order more lemon fridge food savers for my sisters! Keeps lemons fresh for a long time. Very practical and user friendly. I have not had any problems with the seal.