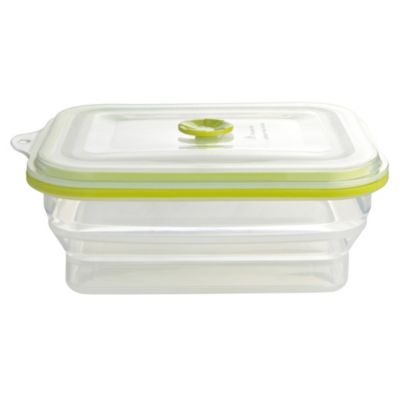 800ml Rectangular Store and More Container
800ml Rectangular Store and More Container
Product number: 17009
You can't put a price on peace of mind
All products include our 3 year guarantee so you can shop with confidence
---
Product Features
Generous 800ml food storage container
100% silicone
Fridge, freezer, microwave and oven safe
Naturally non-stick
Steam valve for reheating food
Quick! Last chance to buy

Free UK returns
3 year guarantee included
Product Features
Generous 800ml food storage container
100% silicone
Fridge, freezer, microwave and oven safe
Naturally non-stick
Steam valve for reheating food
800ml Rectangular Store and More Container

Whether you've cooked up a batch to enjoy later in the week, or just have a bit left over for tomorrow's lunch, our 800ml Store and More food storage container makes it easier than ever to get your food from the fridge or freezer back onto the table and ready to eat.

About Lakeland Store and More Containers

Perfect for people who like to batch-cook ahead or freeze leftovers, our range of Store and More containers are sure to become an essential around the kitchen. Incredibly, these 100% silicone boxes can go straight from the fridge or freezer to the microwave or oven for reheating without removing the lid – just pull up the valve and they're ready to go.

And that's only the beginning; naturally non-stick, their unique valve system makes them completely air and watertight when closed, they collapse down small for storage and, because they are clear, the contents are easily identifiable.

Oven safe up to 230°C.

19 x 13.5 x 7cm H. (7½" x 5¼" x 2¾")

Freezer safe
Dishwasher safe
Microwave safe

Delivery

UK Mainland
Standard Delivery
3-5 Working Days
Express Delivery
Next Day (if ordered before 7pm Monday to Friday. 2 days after 7pm including Weekends/Bank Holidays)*
Sunday Express Delivery
Sunday (if ordered between 6pm Friday and 6pm Saturday)*
Click & Collect
Available at Delivery Page

BFPO & Foreign & Commonwealth Office
Standard Delivery
3-5 Working Days*

Eire (Ireland)
Standard Delivery
7 Working Days*

EU countries
Standard Delivery
7-10 Working Days*

Rest of the world
Standard Delivery
7-10 Working Days*

* Some delivery services may not be available in your area, the delivery page will display the available delivery services during checkout.

Returns

We want you to enjoy shopping at Lakeland with complete confidence, which is why every single product you buy from us comes with a 3 year guarantee – just bring along your receipt or emailed order confirmation as proof of purchase. Plus all returns are free.

To do this, it would be really helpful if you could call one of our friendly Customer Services Advisors on 015394 88100 first, as there are occasions when it may not be necessary for you to be inconvenienced by sending a product back to us.