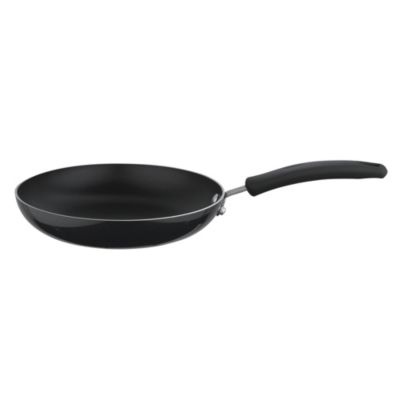 Lakeland Classic 24cm Frying Pan
Lakeland Classic 24cm Frying Pan
Product number: 14314
You can't put a price on peace of mind
All products include our 3 year guarantee so you can shop with confidence
---
Product Features
Good size for pancakes
Rubberised handle for firm grip
Stainless steel base suitable for induction hobs
Oven safe up to 180°C
Dishwasher safe non-stick
Lakeland 3 year guarantee included
Product Features
Good size for pancakes
Rubberised handle for firm grip
Stainless steel base suitable for induction hobs
Oven safe up to 180°C
Dishwasher safe non-stick
Frequently bought together
Lakeland Classic 24cm Frying Pan

Because it's made of aluminium, this medium-sized 24cm frying pan has exceptionally quick and even heat distribution, whilst the steel base ensures it is induction friendly. It's perfect for making frittatas, omelettes and pancakes and a good size for pan-frying meat or fish to serve as they are, or searing meats before making a casserole, curry or stew.

About Lakeland Classic Pans

There's more to our pans than meets the eye. Their glossy exterior means they look fantastic, but you'll be pleased with their performance too!

Material

Made from aluminium, they have excellent durability and heat distribution properties and the stainless steel bases give them a sturdy foundation. The pans' smart black heat-resistant handles have a soft-touch, rubberised finish and a thumb hole for comfortable use.

Non-Stick

A non-stick interior coating ensures nothing sticks and makes washing up a breeze. And, it is safe to put in the dishwasher for extra-easy clean up.

Versatile

Suitable for all gas, electric, solid plate, ceramic and induction hobs, and oven safe up to 180°C.

Oven safe
Dishwasher safe

Delivery

UK Mainland
Standard Delivery
3-5 Working Days
Express Delivery
Next Day (if ordered before 7pm Monday to Friday. 2 days after 7pm including Weekends/Bank Holidays)*
Sunday Express Delivery
Sunday (if ordered between 6pm Friday and 6pm Saturday)*
Click & Collect
Available at Delivery Page

BFPO & Foreign & Commonwealth Office
Standard Delivery
3-5 Working Days*

Eire (Ireland)
Standard Delivery
7 Working Days*

EU countries
Standard Delivery
7-10 Working Days*

Rest of the world
Standard Delivery
7-10 Working Days*

* Some delivery services may not be available in your area, the delivery page will display the available delivery services during checkout.

Returns

We want you to enjoy shopping at Lakeland with complete confidence, which is why every single product you buy from us comes with a 3 year guarantee – just bring along your receipt or emailed order confirmation as proof of purchase. Plus all returns are free.

To do this, it would be really helpful if you could call one of our friendly Customer Services Advisors on 015394 88100 first, as there are occasions when it may not be necessary for you to be inconvenienced by sending a product back to us.

Lakeland Classic 24cm Frying Pan

"Good quality"

Elaine

23 September 2017

Lightweight and perfect! It needs very little fat.

Lakeland Classic 24cm Frying Pan

"very disappointed"

Audrey

11 August 2014

I agree with the previous reviewer regarding this fry pan. It didn't work at all on my induction hob in exactly the same way as he said. I have been informed that some pans work well on certain brands of induction hobs and not on others. I feel this should be made clear on the details. I have taken it back and purchased one from the stainless steel range, which is marvellous. This will not put me off from shopping at Lakeland, which is my favourite shop.

A note from the team

Thanks for taking the time to give us your feedback, I'm sorry that the pan hadn't worked for you. I'm glad to hear that the staff at the store were able to put things right for you.

Lakeland Classic 24cm Frying Pan

"Do not buy for induction hob"

Tom

30 December 2013

Hi We bought this from Ipswich about a month ago but don't have the receipt otherwise would have taken it back. It does not work properly with an induction hob and causes the plate to cycle and then switch off. (it is advertised as suitable for induction and has the logo on the base). Every now and again it makes a connection and then loses it. I assume there is not enough ferrous metal content in it.

A note from the team

Thank s for placing your review. We're sorry the pan isn't suitable to use on your induction hob. As you rightly say the connection to the induction will depend on the ferrous metal and the individual hob it's placed on as they are different from manufacturer to manufacturer. We'll be in touch shortly to help.