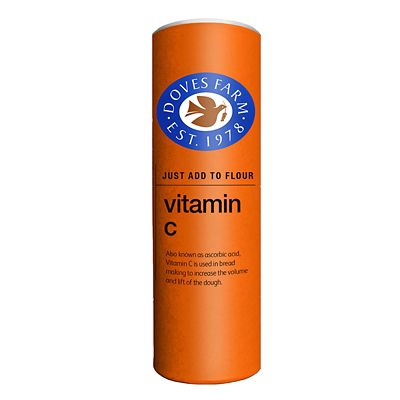 Doves Farm Vitamin C
Doves Farm Vitamin C
Product number: 13122
You can't put a price on peace of mind
All products include our 3 year guarantee so you can shop with confidence
Product Features
Get lighter loaves that rise every time
Improve your yeast's performance
Better for you, better for your bread
Suitable for vegetarians
Doves Farm Vitamin C

If your loaves aren't exactly light as a feather, it's probably about time you added some vitamin C – it's not just good for you, it's good for your bread too!

Add a small amount of this Doves Farm Vitamin C to the bread mix and it will increase the efficiency of the yeast, helping to raise your loaf!

120g., (416p per 100g.)

Suitable for vegetarians
Suitable for vegans

Delivery

UK Mainland
Standard Delivery
3-5 Working Days
Express Delivery
Next Day (if ordered before 7pm Monday to Friday. 2 days after 7pm including Weekends/Bank Holidays)*
Sunday Express Delivery
Sunday (if ordered between 6pm Friday and 6pm Saturday)*
Click & Collect
Available at Delivery Page

BFPO & Foreign & Commonwealth Office
Standard Delivery
3-5 Working Days*

Eire (Ireland)
Standard Delivery
7 Working Days*

EU countries
Standard Delivery
7-10 Working Days*

Rest of the world
Standard Delivery
7-10 Working Days*

* Some delivery services may not be available in your area, the delivery page will display the available delivery services during checkout.

Returns

We want you to enjoy shopping at Lakeland with complete confidence, which is why every single product you buy from us comes with a 3 year guarantee – just bring along your receipt or emailed order confirmation as proof of purchase. Plus all returns are free.

To do this, it would be really helpful if you could call one of our friendly Customer Services Advisors on 015394 88100 first, as there are occasions when it may not be necessary for you to be inconvenienced by sending a product back to us.

Doves Farm Vitamin C

"Very good"

Jonathan

03 December 2012

This really does help the bread to rise.

Doves Farm Vitamin C

"Excellent for Spelt Flour Bread"

Mrs Sylvia Hebden

19 July 2011

Bread made with spelt flour (in my bread machine) is usually flat-topped and very dense. Adding half a tspn of Vitamin C to 500gms of flour certainly made an improvement. However, by accident, I once added a heaped teaspoonful to my ingredients (to which I always add a handful of oats + linseed flakes) and the result was amazing. The loaf was too big to fit into my breadbag, and was so light & fluffy, I now always add a heaped teaspoon to my mixture. Highly recommended!

Doves Farm Vitamin C

"No Problems Here"

Lyn

17 February 2011

I bought this product after reading I needed vitamin C in my wholemeal bread to help it rise. I have produced lovely loaves which are light and enjoyed by my husband, who is the first to tell me if the loaf has a dense stoggy taste. Whether it is to do with the addition of the vitamin C I dont know, but I will certainly continue to use it.