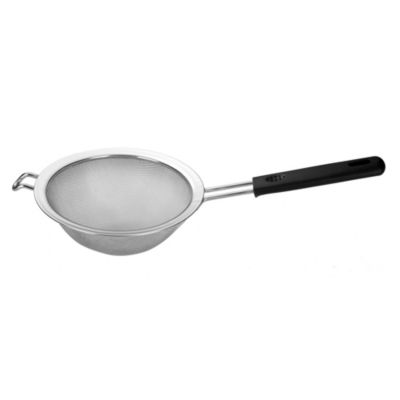 18cm Soft-Grip Sieve
18cm Soft-Grip Sieve
Product number: 12766
You can't put a price on peace of mind
All products include our 3 year guarantee so you can shop with confidence
Lakeland 3 year guarantee included
Product Features
Durable stainless steel strainer
Soft-grip handle gives a firm hold, even with wet hands
18cm Soft-Grip Sieve

High quality, durable stainless steel strainers with soft-grip handles that give a firm hold, even with wet hands.

7"

Delivery

UK Mainland
Standard Delivery
3-5 Working Days
Express Delivery
Next Day (if ordered before 7pm Monday to Friday. 2 days after 7pm including Weekends/Bank Holidays)*
Sunday Express Delivery
Sunday (if ordered between 6pm Friday and 6pm Saturday)*
Click & Collect
Available at Delivery Page

BFPO & Foreign & Commonwealth Office
Standard Delivery
3-5 Working Days*

Eire (Ireland)
Standard Delivery
7 Working Days*

EU countries
Standard Delivery
7-10 Working Days*

Rest of the world
Standard Delivery
7-10 Working Days*

* Some delivery services may not be available in your area, the delivery page will display the available delivery services during checkout.

Returns

We want you to enjoy shopping at Lakeland with complete confidence, which is why every single product you buy from us comes with a 3 year guarantee – just bring along your receipt or emailed order confirmation as proof of purchase. Plus all returns are free.

To do this, it would be really helpful if you could call one of our friendly Customer Services Advisors on 015394 88100 first, as there are occasions when it may not be necessary for you to be inconvenienced by sending a product back to us.

18cm Soft-Grip Sieve

"18cm Soft-Grip Sieve"

17 January 2018

Good quality item, well proportioned sieve.

18cm Soft-Grip Sieve

"Large holes"

Rachel Brown

31 August 2015

The sieve is nice all round, except that the holes seem quite large. As I bought it for sieving flour and cocoa powder it is a bit disappointing to see larger pieces of cocoa getting through.

18cm Soft-Grip Sieve

"The cheap ones are better"

Marco

05 April 2011

Get the cheaper nylon ones. The gap around the sieve means that you will end up getting food stuck there (like in most sieves).