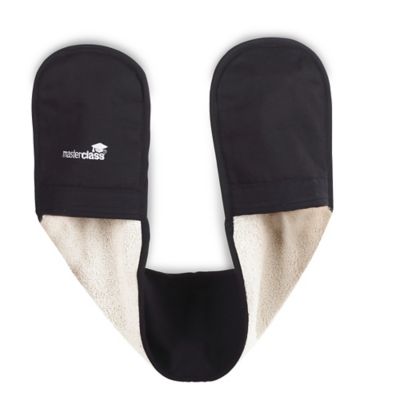 Masterclass® Double Oven Glove
Masterclass® Double Oven Glove
Product number: 10224
You can't put a price on peace of mind
All products include our 3 year guarantee so you can shop with confidence
Lakeland 3 year guarantee included
Product Features
Extra-thick double oven glove
Thick insulation for heat protection
With steam barrier
Pockets spaced 55cm apart
Masterclass® Double Oven Glove

Ideal for getting hot pots out of the oven easily, the MasterClass Double Oven Glove is designed to provide excellent protection while also making it as easy as possible to handle your hot stockpots safely and efficiently.

With extra-tick insulation, these gloves ensure your hands remain cool while you handle pots directly from the oven. They also include a steam barrier to protect from the perils of steam and splashes, while the two pockets are widely spaced 55cm (21½") apart to ensure maximum ease of use.

About the Masterclass Range

Allowing you to cook in the confidence that your kitchenware is up to the job, the Masterclass range of products includes everything from knives and kitchen gadgets to accessories and bakeware to help you get the best results every time.

Delivery

UK Mainland
Standard Delivery
3-5 Working Days
Express Delivery
Next Day (if ordered before 7pm Monday to Friday. 2 days after 7pm including Weekends/Bank Holidays)*
Sunday Express Delivery
Sunday (if ordered between 6pm Friday and 6pm Saturday)*
Click & Collect
Available at Delivery Page

BFPO & Foreign & Commonwealth Office
Standard Delivery
3-5 Working Days*

Eire (Ireland)
Standard Delivery
7 Working Days*

EU countries
Standard Delivery
7-10 Working Days*

Rest of the world
Standard Delivery
7-10 Working Days*

* Some delivery services may not be available in your area, the delivery page will display the available delivery services during checkout.

Returns

We want you to enjoy shopping at Lakeland with complete confidence, which is why every single product you buy from us comes with a 3 year guarantee – just bring along your receipt or emailed order confirmation as proof of purchase. Plus all returns are free.

To do this, it would be really helpful if you could call one of our friendly Customer Services Advisors on 015394 88100 first, as there are occasions when it may not be necessary for you to be inconvenienced by sending a product back to us.

Masterclass® Double Oven Glove

"Masterclass Oven Gloves"

Mrs Killick

17 July 2017

Excellent oven gloves, very protective. Wash well.

Masterclass® Double Oven Glove

"Wonderful"

Victoria

07 February 2013

I bought these for my boyfriend as he was forever moaning about the ones he'd had before. They're fantastic and great for the price compared to others. Highly recommend - have since bought again for my Mum too!

Masterclass® Double Oven Glove

"Another excellent product from Lakeland"

Philip Richardson

01 October 2012

I was understandably wary about finding a replacement for my trusty oven gloves of 15 years. However these are fantastic, comfortable, extra long, no heat gets through so no more burnt fingers, very good quality and incredibly good value. I firmly recommend them. Lakeland to the rescue again!!